Thursday, June 9, 2016, 9:04 AM ET
|
Video ad tech provider Genesis Media has introduced Trending Topics, enabling advertisers to capitalize on temporary traffic spikes in particular web content. As Genesis Media's CEO Mark Yackanich explained to me in a briefing, Trending Topics provides unique opportunities to advertisers to hop onto surges in web content triggered by hot cultural events, even before they've been detected by Google, Facebook or other sources.

Trending Topics leverages Genesis Media's core competencies in web content monitoring and analysis. The company is scanning for web content that has the highest velocity, or rapid movement, in page views. Genesis Media then marries this data to its proprietary Page Attention Rank (PAR) which measures users' attention, retention and time spent to create an index revealing which trending pages represent unusually high value for advertisers based on their objectives.
Mark cited the example of Genesis Media detecting a spike in page views last December associated with Netflix's documentary "Making a Murderer." As the graph below shows, this occurred before subsequent Facebook shares and Google interest accelerated. Mark cited other examples including content around the finale of "Better Call Saul," the season premiere of "Game of Thrones" and when the Warriors' Stephen Curry was injured.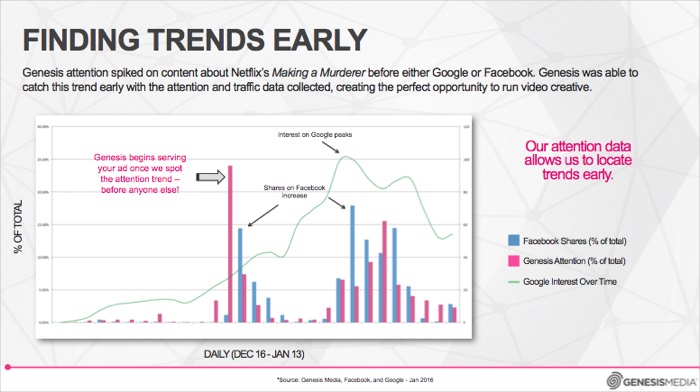 Armed with this data on spiking content and high PAR pages, Genesis Media is able to incorporate ads from appropriate brands. As Mark detailed, the filters include audience composition/targeting, content fit (e.g. entertainment-related) and formats.For now all of the ads included in Trending Topics are outstream video ads, including 7 different formats.

In its initial deployments, Mark said ads using Trending Topics experienced a 5%-20% increase in view-through rate vs. benchmarks. While it's still early for Trending Topics, its ability to efficiently offer advertisers targeted increases in scale, based on actual usage, appears to be a unique opportunity. As Mark emphasized, it's all enabled by doing sophisticated web content analysis, which is Genesis Media's focus.

Mark will be speaking at next Tuesday's 6th annual VideoNuze Online Video Advertising Summit, on the panel "Unlocking Video's Value in the OTT Era" with executives from Conde Nast, DashBid, JW Player, Perform Media and The Washington Post. He'll share more details about how publishers and advertisers are capitalizing on Trending Topics already.