Monday, September 23, 2019, 12:13 PM ET
|
Connected TVs continued their impressive growth in premium video, according to FreeWheel's Q2 '19 Video Marketplace Report, which found that 55% of total video ad views in the U.S. now happen on CTVs. That's more than the combined share of video ad views on other devices: mobile (17%), set-top box video (14%) and Desktop (14%).

Connected TVs' growth rate also vastly exceeded those of other devices. CTV video ad views grew by 48% year-over-year, while mobile and STB video each grew 3% and desktop was down 2%. CTVs have taken a central place in TV consumption, with full episodes accounting for 50% of views and live accounting for 47% of views. Even as CTV share had dramatically increased, ad completion rates have remained strong. FreeWheel found an 88% and 98% completion rate on pre-rolls and mid-rolls in full-episodes, respectively and an 87% and 97% completion rate on pre-rolls and mid-rolls in live.
The data reflects the massive adoption of CTVs in the past few years initially driven by SVOD but now also including broader adoption of AVOD services and virtual pay-TV services.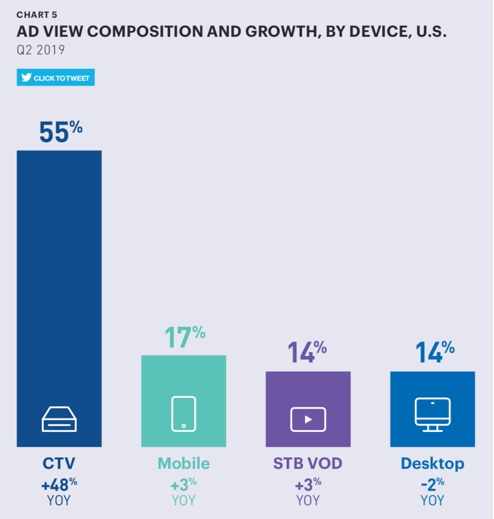 CTVs were also an important contributor to the market's overall growth. FreeWheel found a 27% increase in ad views and a 13% increase in premium video views in Q2 '19 vs. a year ago. 55% of video views were full episodes (basically flat vs. a year ago). Live increased a bit from 33% to 38%, while clips declined from 11% to 7%.

Direct deals still accounted for 81% of ad views, with programmatic accounting for 19%. Programmatic grew 45% year-over-year. The vast majority, 87%, of programmatic volume was done via programmatic direct, and only 13% through open exchanges. Just 7% of targeted campaigns used audience attributes, while 93% used content attributes. Of those using audience targeting, 62% used behavioral and 38% used demos.

FreeWheel highlighted a number of industry initiatives to accelerate data-enabled ad buying including Project OAR, Comcast Advertising's On Addressability and an agreement between NCC Media and OpenAP.

The Q2 '19 VMR can be downloaded here.