EveryZing, a company I wrote about last February, is announcing the launch of its MetaPlayer today and that DallasCowboys.com is the first customer to implement it. My initial take is that MetaPlayer should have strong appeal in the market, and could well shake things up for other broadband technology companies and for content providers. Last week I spoke to EveryZing's CEO Tom Wilde to learn more about the product.
MetaPlayer is interesting for at least three reasons: (1) it drives EveryZing's video search and SEO capabilities inside the videos themselves, (2) it provides deeper engagement opportunities than typically found in other video player environments and (3) it enables content providers to dramatically expand their video catalogs, while maintaining branding and editorial integrity.
To date EveryZing's customers have used its speech-to-text engine to create metadata for their sites' videos, which are then grouped into SEO-friendly "topical pages" that users are directed to when entering terms into the sites' search box. Speech-to-text and other automated metadata generating techniques from companies like Digitalsmiths are becoming increasingly popular as content providers continue to recognize the value of robust metadata.
MetaPlayer takes metadata usage a step further by creating virtual clips based on specified terms, which are exposed to the user. A user's search produces an index of these virtual clips, which can be navigated through time-stamped cue points, transcript review, and thumbnail scenes (see below for example). The virtual clip approach is comparable in some ways to what Gotuit has been doing and is pretty powerful stuff, as it lets the user jump to desired points, thus avoiding wasted viewing time (e.g. just showing the moments when "Tony Romo" is spoken)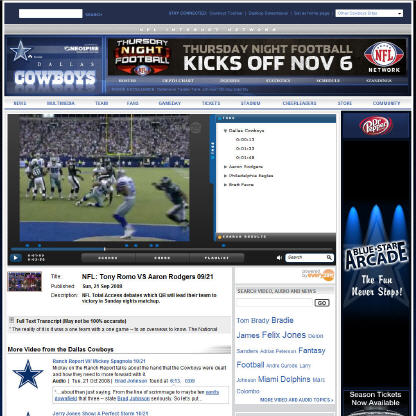 Next, MetaPlayer enables deeper engagement with available video. Yesterday, in "Broadband Video Needs to Become More Engaging," I talked about how the importance of engagement to both consumers and content providers. MetaPlayer is a move in this direction as it allows intuitive clipping, sharing and commenting of a specific video clip within MetaPlayer. Example: you can easily send friends just the clips of Romo's touchdown passes along with your comments on each.
Last, and possibly most interesting from a syndication perspective, MetaPlayer allows content providers to dramatically expand their video offerings through the use of what's known as "chromeless" video players. I was first introduced to the chromeless approach by Metacafe's Eyal Hertzog last summer. It basically allows the content provider to maintain elements of the underlying video player, such as its ability to enforce a video's business policies (ad tags, syndication rules, etc.), while allowing new features to be overlayed (customized look-and-feel, consistent player controls, etc.).
MetaPlayer takes advantage of chromeless APIs available now from companies like Brightcove, and also importantly YouTube. For example, the Cowboys could harvest select Cowboys-related YouTube videos and incorporate them into their site (this is similar to what Magnify.net also enables). With the chromeless approach, the Cowboys's user experience and their video player's branding is maintained while YouTube's rules, such as no pre-roll ads are also enforced.
To the extent that chromeless APIs become more widely available, it means that syndication can really flourish. The underlying content provider's model is protected while simultaneously enabling widespread distribution. All of this obviously leads to more monetization opportunities through highly targeted ads.
Bottom line: EveryZing's new MetaPlayer addresses at least three real hot buttons of the broadband video landscape: improved navigation, enhanced engagement and expanding content selection/monetization. All of this should give MetaPlayer strong appeal in the market.
What do you think? Post a comment now!