Wednesday, April 4, 2012, 9:42 AM ET
|
The VideoNuze 2012 Online Video Advertising Summit on June 19th is continuing to gain momentum, with eight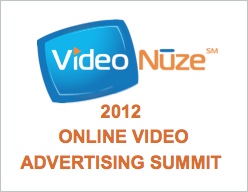 leading industry organizations on board as media partners: CTAM, NATPE, OPA, REELSEO, Beet.TV, The Diffusion Group, The Ad Club of New York and Jack Myers Media Business Report.

All the media partners are offering special discounted early bird registration to the Video Ad Summit which they will promote through their various communications channels. I'm delighted to have these partners working with VideoNuze, helping ensure the Video Ad Summit's success (note this event takes the place of last year's ELEVATE conference which drew 400+ attendees).

In addition, MWW Group, one of the ten largest independent global agencies, will be the public relations partner for the Video Ad Summit. MWW and The Fortex Group, which it acquired last year, have been long-time partners with VideoNuze for its events.

The Video Ad Summit has an amazing group of industry executives speaking, and I'll be adding them to the web site shortly - so keep an eye out!

The Video Ad Summit is generously supported by sponsors Auditude (Adobe), YuMe, Adap.tv, Collective, Conviva, Mixpo, TubeMogul and Videology.