Thursday, March 22, 2012, 10:05 AM ET
|
Early bird discounted registration is now open for the VideoNuze 2012 Online Video Advertising Summit on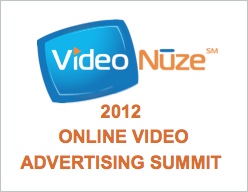 Tuesday, June 19th in NYC. The Ad Summit takes the place of last year's ELEVATE conference, which VideoNuze co-hosted and which drew 400+ attendees.

I'm delighted to announce seven industry-leading companies as initial sponsors. These include Title Partners Auditude (Adobe) and YuMe; Premier Partner Adap.tv and Headline Partners Conviva, Mixpo, TubeMogul and Videology. All of these companies are bringing critical technologies to the online video advertising market and I'm honored they've decided to be a part of the Ad Summit.
Let's face it, the video landscape is more chaotic than ever. Even for close observers, it's often confusing to keep track of all the new initiatives and technologies. And since the vast majority of online video is free and ad-supported, accelerating spending is crucial. Yet important challenges to online video advertising remain.

That's why I believe the Ad Summit matters so much. It's a highly-focused day of immersion with industry leaders from brands, agencies, content providers, technology companies and others in the ecosystem. We'll delve deeply into key industry opportunities and challenges in order to drive growth. An amazing group of initial speakers is on board which I'll be sharing in the coming weeks.

If your business success depends on online video advertising in one way or another, the Ad Summit is a must-attend day of learning and networking. I hope to see you on June 19th!