Monday, January 13, 2020, 11:10 AM ET
|
Early bird discounted registration is now open for VideoNuze's Connected TV Advertising Summit on Thursday, June 11th at the Westin Times Square in NYC. Early registrants save $100 per ticket. Further discounts are available for students, startups and media partners (to be announced soon). 5-pack and 10-pack tickets are also available at further discounts.

VideoNuze's 2020 Connected TV Advertising Summit will be the number one event for executives from brands, agencies, content providers, technology companies and other stakeholders seeking a deep-dive day of learning and networking focused on CTV advertising.

Connected TVs (CTVs*) are already used by more than three-quarters of U.S. households. eMarketer has forecast that CTV ad spending will more than double to $14 billion by 2023, a forecast that could prove conservative given the confluence of cord-cutting, ad-supported OTT services launching (e.g. Peacock, HBO Max, etc) and aggressive pricing for CTVs by leaders like Amazon and Roku.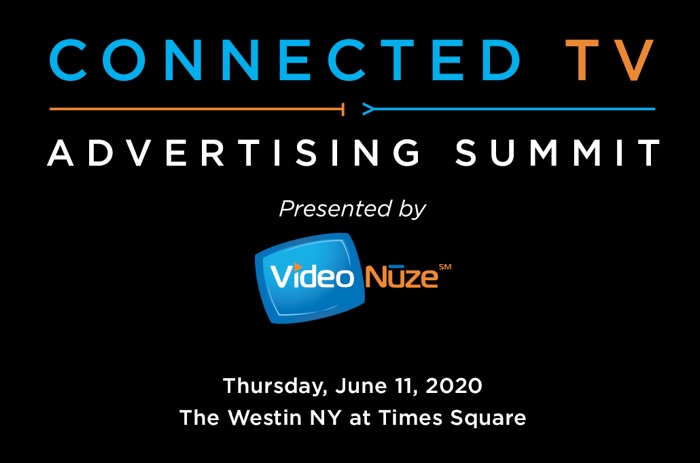 CTV advertising has enormous potential because it combines the best of traditional TV advertising's attributes while also offering the targeting, measurement and interactive capabilities of digital advertising.

Thousands of industry executives have attended VideoNuze events, which have been supported by dozens of industry-leading companies over the past 15 years.

If the future of your business is tied to the growth and success of CTV advertising, then the Summit is a must-attend event.

To learn more about sponsorship opportunities please contact Will Richmond.
LEARN MORE AND REGISTER NOW!

*Connected TV (CTV) refers to any TV that is connected to the Internet and can play OTT video content/ads and also display graphical ads. CTVs have the capability to return user data to device manufacturers, content providers and ad buyers. CTVs support secure transactions such as subscriptions and e-commerce.

Examples of CTVs are smart TVs as well as TVs that are connected to the Internet via streaming media players/sticks (e.g. Roku, Fire TV), gaming consoles (e.g. PlayStation, Wii), DVRs, pay-TV operators' IP set-top boxes (e.g. X1) and other devices.