Wednesday, May 8, 2013, 10:26 AM ET
|
Don't delay - early-bird discounted registration for the VideoNuze 2013 Online Video Advertising Summit on Tues, June 4th in NYC ends in just over a week. Sign up now to save on the standard rate. For startups/students, remember there's a special $195 ticket to make the event more affordable. Contact me for the discount code. As an added incentive, all early bird registrants will be eligible to win a Samsung 40-inch Smart TV, presented by VideoHub.

For anyone who needs to better understand online video advertising, this 3rd annual Video Ad Summit will be a must-attend event, jam-packed with learning and networking. We currently have over 35 speakers from leading companies such as YouTube, GroupM, CBS Interactive, Nielsen, NBCU, Digitas, Viacom, LG, Scripps, Time, AOL and many others.

In over a dozen sessions we'll dive deeply into topics such as whether the traditional day-part programming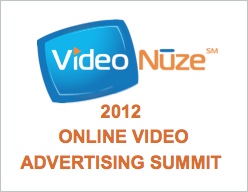 model is dead, the art and science of targeting, the impact of the recent NewFronts, how private video exchanges work, what's ahead for programmatic video ad buying, strategies for monetizing on-demand video, architecting a successful cross-media strategy, plus lots more. I am confident you'll walk away with valuable insights and data.

I'm extremely grateful to all 18 industry-leading companies that are supporting this year's Video Ad Summit: Premier Partners Adap.TV, Adobe, Akamai, TubeMogul, ValueClick and YuMe; Headline Partners Altitude Digital, AOL, BlackArrow, Collective, Innovid, LiveRail, VideoHub and Videology, plus Branding Partners EXPO, Extreme Reach, Mixpo and Real Media. All of them will have representatives at the event and it will be a great opportunity to engage with them.

Save now on early bird registration!