Tuesday, November 4, 2014, 3:21 PM ET
|
If you have kids that love to gorge themselves on Disney, Pixar and Marvel movies, then today's news that Disney Movies Anywhere (DMA) has been integrated with Google Play, allowing Android users full access to their purchased movies, is a huge win.

Since February, when Disney Movies Anywhere launched, movies have only been viewable on the web, in iTunes and on iOS devices. Given the close Disney-Apple relationship, it made a ton of sense for Disney to launch DMA with iTunes. However, there's a big mobile world beyond Apple devices, with comScore reporting Android accounted for 51.5% of smartphones in July '14 and IDC recently reporting that iPad market share has dropped to less than 23%. Getting beyond Apple was clearly an imperative for DMA.
Now, with Google Play and Android on-board, DMA users can both purchase and watch their movies across devices. This helps to overcome one of the biggest challenges to electronic sell-through (EST) - buyers' concerns about purchases being locked into one device ecosystem (as happens with music). This is a critical drawback vs. the highly successful DVD format, which allows buyers to play discs on any brand of DVD player.

The Google deal (and no doubt others to follow) validates Disney's decision to opt-out of the UltraViolet consortium and pursue its own DRM/digital commerce strategy. Disney is now the only studio that fully controls its own digital destiny, with its own branded storefront and device distribution network.

This comes at a time when EST for movies is on the upswing, with NPD reporting that EST movie unit growth was triple EST TV show unit growth last year, with 46% of dollar volume attributable to movies. As mobile devices proliferate this holiday season, movies are poised for further gains and DMA is well-positioned to take significant share.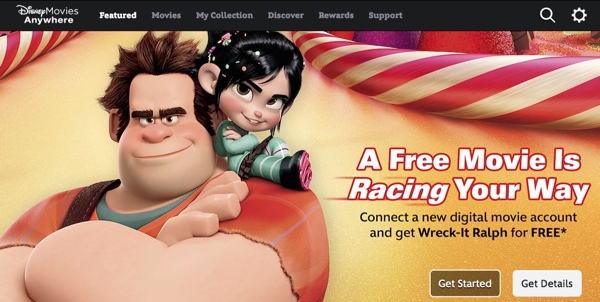 Disney is also marking the Google Play launch by offering a free digital copy of "Wreck-It Ralph" for new DMA users.