Tuesday, September 12, 2017, 9:39 AM ET
|
Comcast announced this morning that YouTube has been launched on its X1 set-top boxes, further supporting Comcast's strategy of becoming an "aggregator of aggregators." Comcast integrated Netflix into X1 last November, the first major milestone of wrapping popular online video services into X1, which vastly simplifies viewers' experiences.

Billions of YouTube videos will now be available to X1 subscribers, equally accessible as Comcast's own live, on-demand and DVR programming as well as online sources like Netflix. YouTube video will also be filtered into the Xfinity On Demand menu, and be available via the X1 voice remote. X1 users can search YouTube by voice or text by topic (beauty, cooking, music, etc.), by specific names of talent, shows and by live-streams.
Personalized settings will also be carried into the YouTube app on X1 when a user is logged in.

As I wrote following news of the Netflix-X1 integration in July, 2016, viewers are once again the real winners with the new YouTube-X1 launch. While connected TV devices have proliferated over the past several years, with 70% or more of U.S. homes now having at least one TV connected to the Internet, the vast majority of TV homes still subscribe to pay-TV, despite the pick-up in cord-cutting.

But with people now mixing and matching their viewing, between linear TV, on-demand, DVR and online video / SVOD, there's still a lot of manually switching device inputs and sub-optimal search/discovery/playback across different sources.

Comcast has long-recognized that a big opportunity for X1 is to serve as a gateway to all video sources, not just those provided by Comcast directly. X1 has been a huge winner for Comcast, with over 55% of video subscribers now having at least one X1. That adoption was based mainly on X1's superior cable TV functionality. In the face of cord-cutting headwinds, Comcast was the only large cable-TV operator to add video subscribers in 2016 and was actually on track to do so again in 2017 until Harvey and Irma disrupted life for thousands of its subscribers.

With the Netflix and YouTube integrations, the full extent of X1's gateway value proposition is being realized. No doubt we'll see other OTT apps integrated into X1 (e.g. Amazon, Hulu, etc.) which will enhance its value further.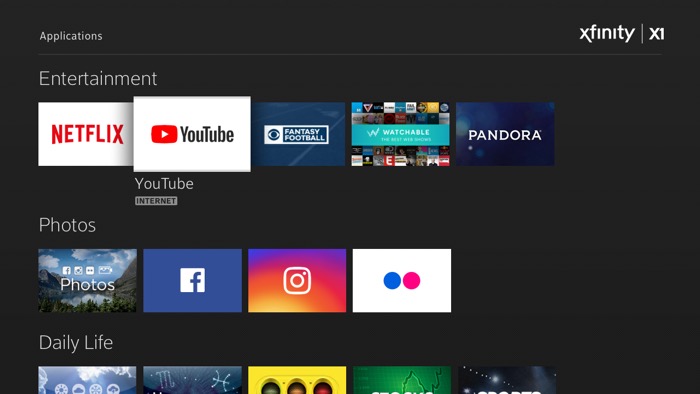 (Note: I'm a long-time X1 subscriber, but I don't see the YouTube app available just yet. I'll follow up when I've been able to give it a spin.)