Tuesday, July 19, 2011, 10:20 AM ET
|
Never mind that Coldwell Banker is a 105 year-old brand; it is pursuing a thoroughly up-to-date strategy of engaging with its customers through the use of online video. Coldwell Banker's "On Location" YouTube channel turns the process of finding a house from a dry text-oriented approach to one that's graphical and video-based. At last month's ELEVATE: Online Video Advertising Summit, Michael Fischer, Coldwell Banker's Chief Marketing Officer, explained the company's strategy and how it's executing (see below for session video).
One data point has galvanized the company: 73% of homeowners are more likely to work with a realtor who offers to do a video for their listing, however only 12% of the real estate industry currently has YouTube accounts. That disconnect has led Michael and the Coldwell Banker team to see video as the thread that pulls together all of its online efforts. Michael believes that with the explosion of online video viewing, consumers have come to expect a video-based experience and that Coldwell Banker can differentiate itself by delivering it.
Michael explains that the process of finding relevant video for a home search has been totally broken, with random and often out-of-date videos rising to the top of the search experience. However, by working with YouTube on an exclusive mapping unit in the On Location channel, Coldwell Banker allows users to search and filter down to exactly the type of home they're looking for and easily watch one or more videos. The video in the mapping unit is also tied to all of the additional information about the home in Coldwell Banker's database.
On Location makes video the entry to the home search experience, with information about neighborhood, schools, etc. in a supporting role. In the 2+ years since On Location's launch it has gained over 3 million visitors and had over 100K videos uploaded. A companion iPad app has recently been introduced as well.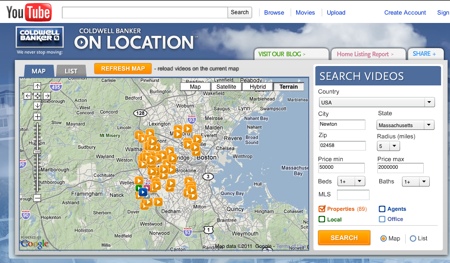 To bolster On Location's video inventory, Coldwell Banker has been encouraging its 93,000 agents to produce short videos for their listings and communities. As an additional incentive, the company prioritizes agents producing video first when visitors search for local agents. And it is providing necessary training in video capture, editing and production so agents can get started easily. Some agents are going beyond the basics, and Michael showcased Jessica Riffle Edwards in Wilmington, NC, who does her own video blog with updates as she drives around her area.
It's still early days for On Location, with just 10% of agents now contributing to video, but by emphasizing it heavily, no doubt many more agents adopt it as well. As they do, Coldwell Banker is becoming a textbook example of how established brands can use video to change their market positioning and create new competitive advantage.