Tuesday, September 17, 2013, 10:37 AM ET
|
Startup BrandAds is announcing availability of its BrandAds Bridge product this morning, aiming to provide universal, real-time video advertising analytics. As Avi Brown, co-founder and CEO of BrandAds told me last week, the company is looking to solve the problem of ad buyers having to use multiple analytics solutions, with each one tied to a particular ad buying platform. Ultimately these need to be synched up in order for a buyer to understand a campaign's total results.
BrandAds Bridge is powered by a direct audience measurement approach, meaning that periodically a user is presented with a survey instead of a pre-roll, which can be as little as 1 or 2 questions. Though it hasn't tested this yet in the market, BrandAds believes it can gain the necessary 1-2% response rate, which, when combined with other data, will enable it to extrapolate results for an entire campaign. Avi said the company's survey approach is based on academic methodologies used in political polling which are more accurate than traditional panels. BrandAds intends to be transparent to customers about survey response rates.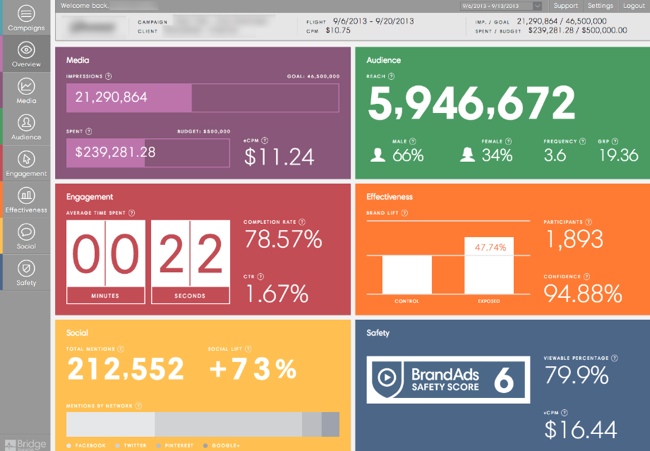 One key advantage of the direct audience approach is that advertisers can modify the survey's questions, so they can create custom user segments, which can be compared to control groups. Importantly, agencies and ad managers don't need to do anything for BrandAds Bridge to work; if VAST and VPAID compliant ads are used, then BrandAds will serve the ads using its own wrapper in order to measure engagement. Avi said the vast majority of current video ads are measurable with the only exceptions when a publisher has a high paywall (then cooperation would be required).

Using its proprietary approach, BrandAds Bridge is able to measure 30 different performance metrics, well beyond simple impressions, click-throughs and completion rates. These include reach, frequency, GRP, viewability and time spent, plus BrandAds-defined metrics like brand lift, social lift, social sentiment and a brand safety score. All of BrandAds Bridge's metrics are presented in very sharp charts and graphs (see example below) that are updated in real-time.

Because it is measuring results by specific network and publisher, BrandAds Bridge also allows buyers to see which providers are performing best, so spending can be re-allocated accordingly.

Comparing BrandAds to Nielsen, Avi sees the company's broader mission as being an unbiased, 3rd-party provider of ad viewership data required for the online video era. BrandAds Bridge is CPM-based product with no monthly minimums. Avi wouldn't share specific pricing but said the BrandAds Bridge's CPM is less than a dollar. The company isn't looking for a share of any buys.

BrandAds has been bootstrapped to date, with no external financing. The team includes 15 people currently, half of whom are engineers. The 3 founders all have extensive video ad backgrounds.