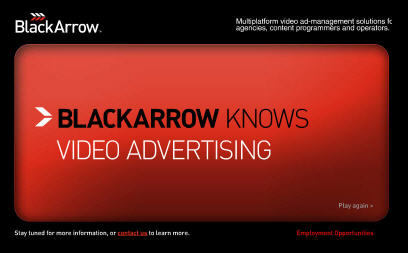 Black Arrow has an ambitious goal of managing and serving ads across broadband video, DVR and VOD platforms. With audience fragmentation causing chaos in the advertising world, such a solution, when fully implemented, would have enormous value to content companies and service providers (cable, satellite, telco).
Black Arrow has been around for a while but went under the radar for the past few months. Now it's re-emerging, with new CEO Dean Denhart installed about 6 months ago.
Dean briefed me last week on news the company announced today, which included closing a $12M B round from existing investors Comcast, Cisco, Intel, Mayfield and Polaris and officially launching their ad platform.
The company is trying to differentiate itself from many others serving ads in the broadband video space by tackling the thorny problem of also inserting in both the DVR and VOD environments. DVR insertion today is non-existent and for VOD it's not scalable. To succeed, the company will need to integrate its servers with the service providers, which is no easy feat. As many of you know, the rap on cable operators - and I've experienced this first-hand - is that selling into them wears out early-stage companies, using up precious time and capital in long drawn-out testing, selling and negotiation cycles.
If Black Arrow survives this process and proliferates its gear into headends, it will have a formidable competitive advantage against competitors. And on the encouraging side, in the cable world at least, a nascent set of standards dubbed "DVS 629" governing digital ad insertion is now being worked on. Black Arrow is following these closely. Dean explained that the company has proven in its technology and in 2008 it will be pursuing field trials and initial rollouts with major operators. Certainly having Comcast as a lead investor can't hurt its chances.
Black Arrow's real appeal to content companies will only begin when it has significant deployments. Dean explained that while the cable sell-in process continues to unfold, it will follow a parallel track of managing ads for broadband, with the longer-term value prop of multi-platform support. And it's taking a wait-and-see approach on which business model to use to fund the capex for proliferating its servers. An analogous and interesting approach is the one Akamai has mastered - i.e. not charging ISPs. Instead it positions its gear contributing to top-line growth and opex reductions. This strategy has been a massive success for Akamai, helping it achieve widespread deployments and a huge entry barrier for competitors.
I really like this company's vision; however achieving it in full is going to take tenacity, patient and deep-pocketed investors and a few good breaks.