Bebo, the social networking giant being acquired by AOL for $850 million, is pioneering a new programming model by mixing original online-only video series, community engagement and brand integration. While in

LA last week I attended an invite-only session in which Bebo VP of Marketing Ziv Navoth provided an overview of its approach and elaborated on its upcoming plans.
Since its inception in 2005, Bebo has quickly mushroomed to 40 million+ members with a core audience of 16-24 year olds, concentrated in the U.K. While a distant third to Facebook and MySpace in size, the depth of Bebo's user engagement is significant.
I think Bebo has cleverly grasped the notion that by offering original online video series, it is providing valuable, relatively inexpensive fodder for its members to engage with. So valuable is this programming to serving Bebo's larger corporate mission that its "Open Media" model allows content partners to keep 100% of revenue generated.
Bebo's programming initiatives are gaining traction with its members. Its first series, "KateModern," the successor to "LonelyGirl15," the YouTube phenomenon, received 35 million views in its first season, and is currently averaging 1.5 million views per week, according to the company. Its next series, "Sofia's Diary," is getting half a million viewers per episode according to the company, and its broadcast rights were just acquired by FIVER, the UK broadcaster. Other programs launched or in the works include Vuguru's "The All-for-Nots", "Conquering Demons" (in association with Oakley, the sunglass company) and "The Gap Year."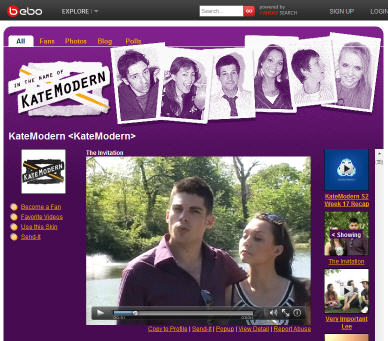 When you look across all these programs, a key thread is that they all showcase young characters to whom Bebo's audience can easily relate and/or fantasize about being. Ziv repeatedly referenced that in Bebo's model, community and programming are inseparable. Bebo encourages members' feedback and involvement in the stories, and in some cases will bend the narrative to members' desires. Meanwhile Bebo offers a range of community tools to help shows gain promotion to its member base. Bebo's promotional capabilities, massive reach and member engagement are of course the main reasons why producers will seek out Bebo as a partner.
If there's one current weakness I perceive in Bebo's programming model it is monetization. Given its young, media-savvy audience, Bebo knows that advertising must be approached with care. To date Bebo has emphasized product placement, but in a way that "propels the story line forward" according to Ziv, and is believable, not gratuitous. This of course necessitates a lot of custom, one-off selling, which not a model that is scalable across dozens of eventual programs. My guess is that traditional pre-rolls and even possibly overlays will have to play a bigger part if AOL wants to fully monetize Bebo's viewership. If done with proper targeting and capping this could be acceptable to its audience.
What I like about Bebo's programming approach is that it is clearly indigenous to the online medium. As such, it is distinct from models like Hulu, which though also valuable, are primarily new conduits for existing broadcast programming. To the extent Bebo succeeds, it will become a model for how new programming that is exclusively tailored for the online medium will work.
What do you think of Bebo's programming model? Post a comment and let everyone know!