Today, I'm pleased to welcome the first post from Colin Dixon, Practice Manager, Broadband Media at The Diffusion Group, who is also a longtime industry executive.
I also want to highlight that as part of The Diffusion Group's 4th anniversary today, it is offering a special promotion for new clients of 4 reports for $4,000 (reports are usually $2,500 apiece) which also includes a 30 minute consult with founder/principal analyst Michael Greeson. The opportunity will be available for 4 hours, 4 minutes, from 12 noon U.S. Central Time today. Enjoy!
BBC's iPlayer a Model for U.S. Networks?
by Colin Dixon, The Diffusion Group
There's a lot of angst in Hollywood at the moment over broadband video. With video advertising models online in their infancy, the content providers are rightfully concerned about cannibalizing their linear channel ad revenue for unproven broadband models. Will eyeballs follow if a content provider puts all of its shows online? What's the right balance between too little and too much online content? With the variable quality of broadband connections, should a viewer be able to download the show for free rather than streaming it? Questions such as these are the source of much hand-wringing.
But what would happen if a major network were to throw caution to the wind and put everything they broadcast online and let their viewers download the shows for free to watch when and where they liked? Perhaps we can learn some lessons from the UK where the BBC, unfettered by the profit motive, is doing just that.
Late last year the BBC released its iPlayer through broadband connections to the British public. This proprietary client, available on PCs and iPods throughout the UK, makes available for free download every show broadcast on all of the BBC's many radio and television channels. Once downloaded, a show can be watched, ad free, anytime over the following 30 days (although once you start to watch a show, you have 7 days to finish viewing it.)
The British public, apparently, love it. In January, they downloaded some 11 million shows with usage of the service peaking at over a half million downloads in one day. Over 2 million people are perfectly comfortable relaxing in front of the PC catching up with the latest episode of "Doctor Who" or "EastEnders." And because the show is downloaded, not streamed, the quality is always great and the shows can be watched when and where it's convenient.
But perhaps this is just a British thing. Surely the same rules don't apply to the US market? Far from it. As we found when we surveyed broadband video users, there is strong evidence that US users will embrace online delivery with the same fervor as their UK brethren. When we surveyed nearly 2000 US broadband users, we found that 40% were watching an hour or more of broadband video. More amazing still is that 12% of broadband users were watching 25% or more of their television online. If you have a teenager in your home, I'm sure this will not come as a surprise to you!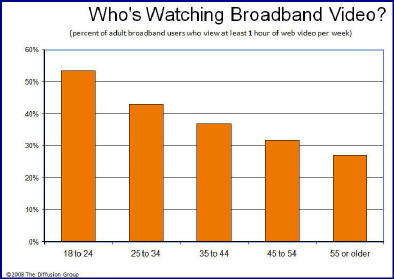 Numbers like this are noteworthy in themselves. But it's important to remember that, in comparison to the BBC's iPlayer, the online viewing experience in the US is a mess. Shows are scattered over multiple websites and free ad supported show downloads are rare indeed. Broadband video viewing is an incredibly variable, often frustrating experience. What is clear is that given the same circumstances, the BBC's experience is likely to be repeated here.
The message for US content providers is clear: if you put it all online for free, and let people download and watch whatever, wherever and whenever they want, the eyeballs will follow. But with large numbers of people already devoting 25% or more of their TV viewing online, the issue of cannibalizing existing linear broadcast ad revenues is rapidly becoming irrelevant. The ad revenues will migrate to the Internet anyway!
One can only speculate what can happen when, as we predict for 2011, there are over 100 million households worldwide that are watching broadband video not from their PCs, but from broadband-enabled TVs.
What do you think? Post a comment and let everyone know!