Monday, August 30, 2021, 12:34 PM ET
|
VideoNuze readers know that I've long been bullish on Amazon Channels, the program Amazon provides to distribute SVOD services. Amazon offers these services access to its massive audience and comprehensive delivery infrastructure, while retaining a share of the monthly subscription revenue for itself. For SVOD services, Amazon Channels is an attractive and highly tempting way to quickly scale up their subscriber base. For Amazon, it's yet another way to bolster its presence in the media business, generate high-margin revenue and leverage its reach and tech capabilities.

But an experience I've had over the past few days has highlighted the execution challenges SVOD services encounter when partnering with Amazon Channels and more broadly, the downside of third-party distributor relationships at a time when building direct-to-consumer bonds is more important than ever.

On the last night of vacation this past Friday with extended family, we decided to watch "A Few Good Men" after dinner. A quick search revealed it was available on AMC+ which itself could be subscribed to either directly or through Amazon Channels. I chose the latter route (why not, Amazon already has my credit card, etc.). With a couple clicks on the Roku TV, I started my 7-day free trial to AMC+ and we were watching the movie. Easy, easy.
Once I started my trial, AMC+ (or any other SVOD service a new trial is started with) should have been doing everything reasonably imaginable to retain me as a subscriber post-trial. The worst outcome for AMC+ would be that my family simply watched the movie under the free trial and then I cancelled the service without watching anything else. That's a huge missed opportunity, especially since AMC+ didn't spend any money to acquire me as a subscriber ("A Few Good Men" and AMC+ both popped right up when I searched) so my lifetime value is positive from moment one.

It would very valuable for AMC+ to first understand from Amazon when a new subscription has been started whether it was prompted following a search for a specific title, which was then viewed, or if the new subscriber's first action was to browse (my hunch is that a high percentage of time it's the former circumstance). Whichever circumstance it is, certain follow up actions should be triggered.

Another hunch is that AMC+ doesn't get this usage information from Amazon and/or if it does, Amazon doesn't enable AMC+ to act on it. When I say "act on it" I mean, does Amazon pass my email address to AMC+ so it can follow up with me directly? I highly doubt it, because since Friday night I haven't received a single email from AMC+ thanking me for subscribing, asking how I liked the movie, recommending additional content, etc. Nothing. Not getting an email address from Amazon effectively means that AMC+ does not have a direct way to cultivate the seed that I planted by starting the trial. (I should add that I haven't received anything from Amazon either, other than an initial "Your AMC+ Free Trial Has Started.")

If AMC+ knew I searched for and watched the movie, following initiating the 7-day trial, then it should have been all over me with multiple emails since, reinforcing the value of its service. Instead what happened is that yesterday, I logged into Amazon and started the trial cancellation process. Even though I had 5 days left on my trial I wasn't familiar with anything else on AMC+ and I already have a queue of shows on other SVOD services I haven't gotten to watching yet. AMC+ may have fantastic content that I would enjoy, but I haven't been told about it even though I'm a couple days into my free trial period. When I took a look at AMC+'s web site there are some originals listed that look interesting.

When I clicked to cancel a curious thing happened: I was presented with an offer page (see below) to "Keep AMC+ and pay just $5.99 per month for 2 months" at which point the regular $8.99 per month fee would start. Six thumbnail images for shows were also included, only two of which I recognized; neither of them seemed to have any clear correlation to "A Few Good Men." So, having done nothing in the first couple days of my subscription to highlight the VALUE of its programming, AMC+ instead chose to promote yet another PRICE offer to retain me, further devaluing its product. This is not a productive approach to building long-term value.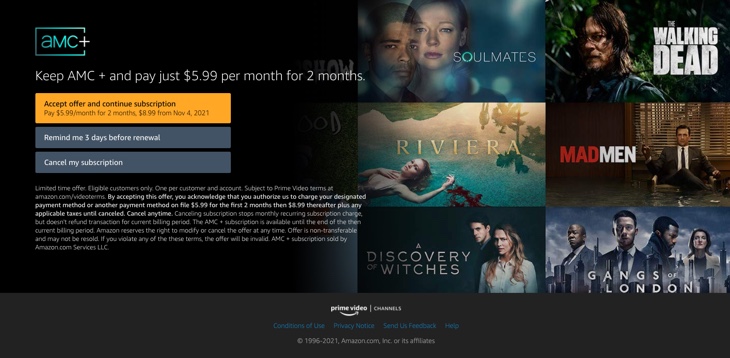 To be fair, it may be that Amazon actually offers AMC+ and its other Amazon Channels partners many tools to build relationships with its new subscribers. AMC+ has been on Amazon Channels for less than a year, so it's certainly possible AMC+ hasn't yet fully capitalized on what Amazon makes available. The discounted retention offer may just be the "default" mode Amazon prompts when a trial subscriber tries to cancel.

Or, as I suspect is more likely, Amazon actually provides a relatively limited set of tools for SVOD services to build value or directly engage subscribers. Lest we forget, when you distribute through a third-party, they mostly set the rules of engagement with end users. So just as in the pay-TV world, where pay-TV operators controlled the relationship with subscribers, in this case Amazon does. In essence AMC is trading its traditional go-to-market relationships with Comcast/Charter/Verizon/DirecTV/etc. for a relationship with Amazon.

While AMC can and does market AMC+ for direct subscription, the reality is that once it becomes available in Amazon, or any of the other big platforms, the vast majority of subscriptions will likely come through these avenues. In a world where "direct-to-consumer" has become the holy grail, it's questionable whether AMC+ - or any other small to mid-sized SVOD service - will ever actually achieve standalone DTC independence. So at a minimum they need to bargain hard with the platforms for every conceivable subscriber engagement tool they can get, and then execute flawlessly. Doing anything less will lead to suboptimal results given how intense SVOD competition is.

(Btw, it was my sixth or seventh time watching "A Few Good Men" and I highly recommend if you have never seen it. Not only does it stand up well nearly 30 years later, but the final courtroom showdown between Tom Cruise and Jack Nicholson "You can't handle the truth!" is one of the best scenes ever shot, in my opinion. Tom Cruise gives one of his best performances, which was worthy of an Oscar nomination in 1993 at a minimum, again in my opinion, which he did not receive.)
Update: When I initiated the cancellation process again today, with 3 days to go on my trial, the page below now loads. Sadly, still no key messaging around value of the AMC+ programming nor recommended shows/movies that correlate to "A Few Good Men" to gain my interest.