Wednesday, April 2, 2014, 10:39 PM ET
|
In baseball terms, Amazon's new Fire TV connected device will be neither a home run nor a strikeout; more likely it looks like it will be a solid double. Amazon deserves credit for some clever new features that will distinguish the Fire TV in an increasingly crowded connected TV landscape. But, by beefing up its specs - and therefore its own costs - Amazon has priced the device relatively high at $99. That in turn will likely limit its appeal mainly to certain segments of the market: families with younger kids and/or casual gamers.

Of course a connected TV device from Amazon has been long-rumored and highly expected since it complements so well numerous other initiatives such as Prime, Kindle, Prime Instant Video, Amazon Studios, etc. How exactly Amazon would execute on the opportunity was debated. Would it roll out an inexpensive stick or more polished box (or both)? Which devices would it compete directly with? What content strategy would it use (free! pay-TV!)? And what features would differentiate it?
Amazon has clearly decided on a premium positioning, packing Fire TV with a powerful quad-core processor, dedicated graphics engine and 2GB of memory so it can offer a slew of features like a fast UI, video pre-loading (dubbed "ASAP"), voice search, and casual gaming (the latter requires a $40 add-on controller). In addition to gaming, Fire TV's "FreeTime," looks like an excellent dedicated kids' content space with parental controls (note this requires a monthly subscription that varies depending whether you're a Prime member).

From a content perspective, Fire TV offers all the table stakes OTT services (Netflix, Hulu, Amazon Prime, WatchESPN, YouTube, Pandora, etc.) and a few dozen others, though not HBO Go, Spotify, MLB.TV most prominently. No question all of these will get added eventually, though Fire TV is unlikely to ever match Roku's 1,200 channels, it will still have a nice broad selection. Of course Amazon Prime and the Amazon Studios originals are included.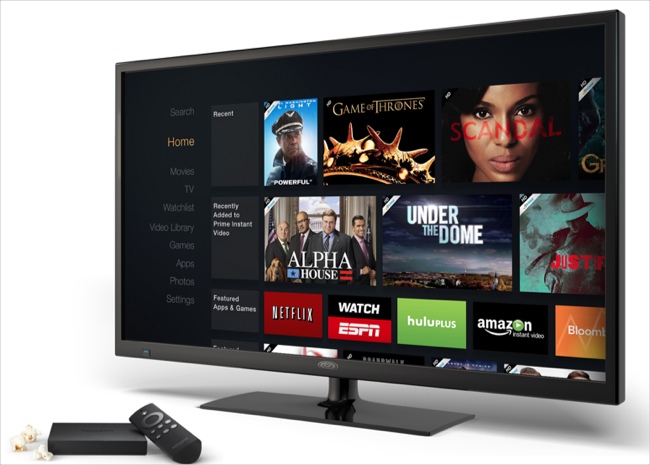 Last summer when Google introduced Chromecast, I, for one thought any new connected TV device subsequently introduced would have to be sub-$50 (Roku Streaming Stick aligned with that vision) in order to get attention. Amazon obviously doesn't agree with my point of view.

But when thinking about the range of choices a prospective connected TV device buyer now has, the inevitable questions that will arise are 1) how valuable are the Fire TV extras and am I willing to pay the $50-65 above the cost of Chromecast and Roku to have them and 2) how does Fire TV compare to a similarly-priced Apple TV (caveat here is a new Apple TV is forthcoming so comparing to current product is somewhat pointless).

Answering the former question, I return to the families with young kids and casual gamer market. For them Fire TV is very compelling. Amazon found some genuine white space in the market for a solid kids/parental control offering and looks like they've executed well. The extra money will seem well spent to many parents.

The gamer market (outside of the part that overlaps families) is not quite as strong an opportunity in my view. Fire TV isn't a replacement for genuine consoles (Xbox, Nintendo, PlayStation), so more likely it would work as an augment for second or third TVs, or maybe in dorm rooms and elsewhere. Amazon is also investing heavily in its own games as well as getting developers such as EA, Disney, Ubisoft, and others to bring their games to Fire TV. All of this will clearly raise Fire TV's appeal.

Both of these segments are sizable and given Amazon's promotional clout, customers will become well aware of the Fire TV. Just grabbing a good chunk of these opportunities will make Fire TV a double. However, by not more aggressively pricing Fire TV, Amazon essentially ceded the chance for it to be a home run, as Chromecast has been for Google.

Nevertheless, Amazon definitely made the right strategic decision entering the connected TV device market, and I fully expect it will offer additional form factors and price points down the road, as it has with Kindle. Fire TV is Amazon's opening salvo in the digital living room market that is shaping up to be a real dogfight between giant competitors.

(Note, I've ordered my Fire TV and will post further observations when I've given it a spin.)