Tuesday, December 8, 2015, 1:09 PM ET
|
Amazon made a very significant announcement this morning, unveiling its "Streaming Partners Program," which I believe could disrupt the entire SVOD industry if executed well. There are many ramifications of the Streaming Partners Program (which has been rumored, and I'll call "SPP" for short) that I'll explain below, albeit based on still limited information.

First, what is SPP? From an SVOD provider's perspective, it's an opportunity to have Amazon promote the SVOD service to tens of millions of Prime subscribers, with special pricing and promotions. Amazon handles subscriber acquisition, customer service, billing, credit card management, video streaming and device compatibility. Basically it frees up SVOD providers to focus on what they do best - create great content. Amazon announced that Showtime, Starz and 18 other SVOD providers are initial SPP partners.
From a viewers' perspective, SPP presents numerous benefits, most notably, free trials on SVOD services, special pricing, unified search across all included SVOD services and Amazon content, the convenience of managing just one account through one UI, creating one watchlist and more. If SPP works well, it could also mean getting highly relevant recommendations and surfacing content that you may not have known even existed.

Stepping back, it's critical to understand the context into which SPP is launching to see why it could be so disruptive to the SVOD industry. It is no exaggeration to say that every single day another SVOD service launches. As I noted last week in my skeptical post about the likelihood that licensing TV programs would help make YouTube Red (the company's new SVOD service) a success, these days, everyone in the media business feels compelled to offer an SVOD service.

The current frenzy is being driven by Netflix's incredible success and also by the widespread panic/realization that online video is siphoning away TV ad dollars. Media executives figure, hey, if Netflix can get to 69 million global subscribers in such a short time, then surely there will be demand for my SVOD service. Plus, media executives have concluded that having a direct-to-consumer relationship where actual viewing data can be collected and analyzed is essential to avoid being marginalized.

The fly in the ointment for all of these SVOD aspirants is that it is extremely unlikely that consumers will be interested in subscribing to more than a handful of SVOD services, at the most. There are numerous reasons for this including cost, lack of awareness, confusion/complexity, paradox of choice and so on. There is a reason the pay-TV multichannel bundle has worked so well for so long - consumers with busy lives and finite budgets crave simplicity. Pay one price to one provider, get access to a lot of great content and just sit back and enjoy.

Amazon is banking on some of these same dynamics as it seeks to aggregate SVOD services. The explosion of online video choices means simplicity, packaging and risk-reduction is even more important to consumers as well as to content providers. By extending its Amazon Prime platform to video providers, Amazon is doing something akin to when it opened up its e-commerce platform to 3rd party merchants so many years ago. Similar to that program, which gave 3d party merchants access to Amazon's customer base, inclusion in search results and numerous merchant services, Amazon is now extending Amazon Prime capabilities to SVOD providers who participate in SPP. To be clear, SVOD pricing is still a la carte, but Amazon's goal is to create so little friction that to the subscriber it feels simple and easy.

For cable TV networks, long-accustomed to having pay-TV operators play the role of retailer - handling marketing, customer care and service delivery/assurance - SPP will feel very familiar. No wonder that TV networks with SVOD services like Showtime, Starz, A&E, AMC and CuriosityStream (backed by Discovery's founder John Hendricks) are among the first batch of SVOD providers in SPP.

It wouldn't surprise me to see HBO Now in SPP quite soon too (remember HBO is already licensing tons of programs to Amazon for its Prime Video service). Another one I'd expect to see join soon is CBS All Access, which is the most aggressively marketed TV network SVOD service. CBS will quickly realize the reach SPP could give it would be significant. Yet another one I'd expect to see join SPP is Sling TV, which, given the deteriorating performance of Dish Network's core direct satellite business, is becoming ever more essential to propping up the company's quarterly video subscriber numbers.

The addition of Sling TV and other TV networks' SVOD services will signal yet another inevitable move by Amazon into becoming a de facto pay TV operator. If you believe in Apple CEO Tim Cook's vision that the "future of TV is apps" (as I do), then in reality, each time Amazon offers yet another TV network SVOD app within SPP, it is inching one step closer to becoming, for all intents and purposes, a next-generation pay-TV provider.

Perhaps most important, Amazon is methodically leveraging all of its key assets to position itself as an incredibly valuable partner for SVOD services. Placing itself at the center of the ecosystem and tapping into its vast trove of user data to selectively promote and convert subscribers to specific SVOD services based on actual user interests will help wary SVOD providers realize being in SPP is, net-net, to their benefit.

It's also worth considering what SPP means to Netflix, which has become the 800-pound gorilla of the SVOD space. SPP could be very disruptive to Netflix, which is spending billions of dollars on content licensing and global expansion. Amazon is essentially trying to change the rules of the game. Rather than incur the costs of content creation (which to some extent it is ALSO doing with its own originals efforts), it is opening its doors to OTHERS who have made big content investments. As an important DISTRIBUTOR, Amazon is playing to TV networks/studios anxieties that they have gone too far in licensing programs to Netflix and must now retain more control and branding. These are two major sticking points in negotiations with Netflix.

For sure, it's too early to judge the extent of SPP's impact. I continue to use the word "could" in this post because execution is everything and the specific details of how SPP rolls out will be essential to its eventual success. For example, this morning when I did a search for "Homeland" on Amazon's web site, I was prompted to try the 7-day Showtime trial, which was impressive (see below). But when I did the same search on my iPhone in the Amazon Prime video app, there was zero mention of subscribing to Showtime. Instead, when I clicked on "How do I watch this?" a box popped up saying "Customers who subscribe to Showtime on Amazon can watch here." I clicked "OK" but the box closed and it was a dead end. That's a missed opportunity for Showtime to get a new subscriber and also for Amazon to demonstrate the power of SPP in presenting a unified experience to the Prime subscriber across all devices.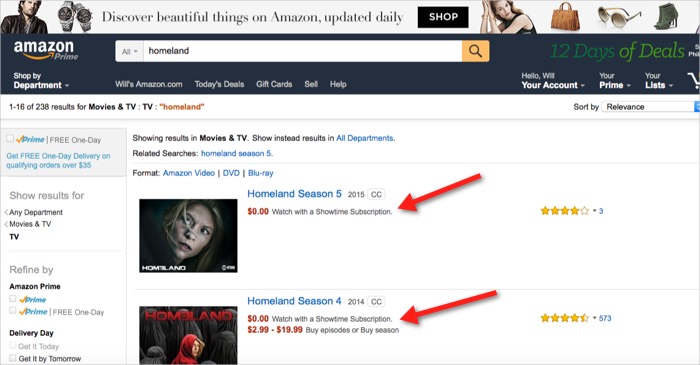 For SVOD providers, joining SPP creates new risks around subscriber and data ownership, revenue splits, branding and more. I don't know the details of SPP participation, but no doubt, given how Amazon has decimated book retailers and played hardball with book publishers, video content providers will be justifiably wary of partnering. SPP's frictionless approach further fuels the possibility that these subscription VOD services could eventually become little more than transactional VOD services in reality, as I recently tried to explain. Still, SPP offers SVOD providers many essential benefits that address nagging financial and operational issues.

SPP is just the latest reminder of how Amazon's massive financial firepower and reach gives the company unique opportunities. SPP is also another indication of how seriously Amazon regards video as its next big opportunity. As I wrote back in September, across devices and content (and now services), Amazon keeps upping the video ante. With SPP, it is trying to further scramble the SVOD landscape. I'm always cautious about getting too enthusiastic about announcements which are a dime a dozen, but SPP feels like an initiative that warrants keeping a very close eye on.