Tuesday, September 29, 2009, 8:13 AM ET
|
Akamai is announcing its new "Akamai HD Network" this morning, and planning a 1pm webcast to explain the details. Akamai is positioning the network as the first to deliver HD-quality live and on-demand streaming for broadcast-sized audiences. The Akamai HD Network supports Flash, Silverlight and iPhone.
Key to the Akamai HD Network is support for adaptive bit rate ("ABR") streaming, which adjusts the quality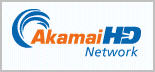 of the video delivered based on prevailing network conditions, instant response for pause, rewind, startup, etc, an open standards HD video player and user authentication. Adobe has also optimized Flash to be delivered over Akamai's HTTP network, which appears to be a first. This allows Akamai to fully leverage its 50,000 HTTP edge-server network.
The evolution toward HD-quality delivery has been building steam recently, as content providers increasingly recognize that TV-quality video is becoming the expected norm for online video users. This is particularly true for heavy users who substitute online viewing for TV-viewing, but don't want a degraded experience. As convergence devices, which bridge broadband to the TV in the home take off, the quality bar will rise for all users. This means that all CDNs that want to be players in video delivery will need to be able to deliver HD quality at scale. Move Networks, which I've written about before, is another company playing an important role in enabling high-quality broadband-delivered video to the TV; others will no doubt follow.
More details coming in the webcast today at 1pm ET.