Late yesterday, ABC unveiled "The VIEWer's Choice" an online library of video clips of every single topic, co-host, guest and segment from the popular daytime talk show "The View." Clips can be searched, and are also organized by playlist topics such as Celebs & Entertainment, Sex & Relationships, Mom's View, etc.
For fans of The View, the clips offer unparalleled access to the show's most memorable moments, which can also be shared easily through a dozen social media sites. For example, here you can see last Friday's episode featuring guest Melissa Etheridge. I played around with it a bit and was quickly able to find all the relevant clips with Tiger Woods and discussions about American Idol.
The VIEWer's Choice is powered by Gotuit Media Corp, a company I've written about in the past. Producers use Gotuit's Video Metadata Management System to set up the "virtual clips" from the source broadcast, based on time-based metadata. The metadata is used to both categorize the video clips into the playlists, to power search and to define ad inventory. Gotuit is used in other key sites like NBA.com's "Inside the NBA," ESPN's "Pardon the Interruption" and SI's "The Dan Patrick Show."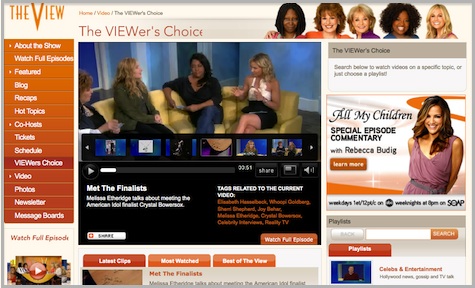 Almost 2 years ago I wrote a post "Non-Linear Presentation + Long-form Premium Video = Big Opportunity," in which I explained how deconstructing full-length programs into searchable clips offers big opportunities to drive fan engagement and new ad inventory. With the explosion of social media like Twitter and Facebook since, the opportunity to leverage clips to promote specific moments in programs is even higher now. Looking around the web though, I'm still surprised at how many full-length programs don't take advantage of this. As "The VIEWer's Choice" demonstrates, talk shows, news and sports programming are probably the most natural fit.
Engagement is the big idea behind The VIEWer's Choice; it is exactly the kind of initiative that bridges broadcast to the Internet, where more interactivity, choice and personalization are expected. As a side-note, I think it picks up nicely on what Martin Nisenholtz, SVP of The NYT's digital operations said in a recent speech at Wharton: "we've begun to view (engagement) as the essential moat around which our defenses are based; it is the emotional connection that our users have with us."
I think that point is right on the money - since Internet users are always just 1 quick click from moving on, the need to immerse them in the content experience is stronger than ever. The traditional metrics of ratings points, circulation, box office gross, etc will still be important, but going forward, measuring how solid the bonds are with audiences and users will become a key new currency when measuring a brand's value.
What do you think? Post a comment now (no sign-in required)
(Note - we'll be talking in-depth about engagement at the VideoSchmooze breakfast in LA on June 15th, where our topic is "How Hollywood Succeeds in the Digital Distribution Era." Among our panelists will be Albert Cheng, EVP of Digital Media at Disney/ABC Television and Ben Weinberger, CEO and co-founder of Digitalsmiths which is powering metadata creation and management for many studios. Please join us - early bird discounted registration is now available).