5Min, the video syndication platform company focused on the instructional and lifestyle categories and Scripps Networks, owner of HGTV, Food Network, DIY, Fine Living and Great American Country, are announcing this morning a content and advertising partnership. 5Min, which I described in December, '08 and again in July when it raised $7.5M, is a classic "Syndicated Video Economy" company. Its VideoSeed syndication tool drives relevant video from its content partners to specific pages within its distribution network's web sites. I talked to 5Min CEO/co-founder Ran Harnevo late last week to learn more about the new Scripps deal.
Scripps will be contributing thousands of clips to 5Min for syndication across 5Min's network, which now

generates 22 million unique viewers/mo. This is significant because Scripps owns the premier brands in the food and home & garden categories and so for 5Min the content is an important enhancement to its library. For Scripps, choosing to partner with 5Min is a strong endorsement of the syndication model as a driving force for online video.
I've been saying for a while that to succeed in online video, established media companies need to evolve from being "destination-centric" to being "audience-centric." In other words, instead of solely focusing on attracting users to a specific channel or a web site (the traditional approach), it's becoming as important to proliferate content to the Internet's nooks and crannies, to ensure content is available wherever audiences live (niche sites, social media outlets, portals, etc.).
However, I think a key to content providers' succeeding with this model is retaining control over ad inventory that the syndicator creates, to fully leverage their ad sales capabilities. This is another element of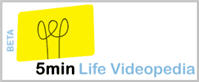 the 5Min-Scripps deal. As Ran explained, Scripps will sell ads against its clips that run in the 5Min network and also against all clips in 5Min's food and home & gardening categories. 5Min will collect a revenue share in exchange. Even though 5Min's own ad sales efforts have been strong, Ran reasoned that with Scripps' reach and relationships, this was a better approach to optimizing the value of the ad inventory.
This model underscores how important the concept of scale is in online video advertising. Ad sales professionals understand that it is not just targeted audiences that appeal to prospective advertisers, it's being able to offer sufficient scale to make them matter. Sub-scale media businesses have a hard time attracting major brand advertisers because their audience sizes are not large enough to meaningfully move the brand's numbers. In other words, no matter how targeted the audience, and how effective the ad campaign, the campaign's results likely will not be sizable enough to register a difference. Scale is not just a problem with niche vertical sites. Larger horizontal sites can have the same problem in certain of their content categories. In fact, whenever you visit a site (or a section of a site) and only see Google AdSense ads, that's likely an example of sub-scale.
The scale issue is particularly relevant in online video and the Internet in general because there's so much audience fragmentation. Barriers to entry for starting a web site are incredibly low, and many sites can obtain some initial traffic flow. But generating ads is another story. Brands and their agencies are not set up to deal with a lot of the Internet's minnows. Their media planning focus is on the whales that have at least reasonable targeting and significant reach. In fact, ad networks often rep smaller sites that don't have their own sales teams (as well as some that do), but even they require some minimal size to ensure they can deliver results.
All of this leads to why smart, automated video syndication is so important for the syndicated video economy to work. High-quality video is still expensive to produce so to really succeed online it needs to drive monetizable views wherever it can, not just at a single destination site. Scripps clearly understands this, and I think others are beginning to as well. Syndication platforms like 5Min's, which allow both content providers and would-be distribution points to be easily and effectively matched, are important glue in this process, which I see only becoming more critical going forward.
What do you think? Post a comment now.