Thursday, May 27, 2021, 5:13 PM ET
More than two months since its launch, it's no secret where the new kid on the SVOD block, ViacomCBS's Paramount+, is getting its programming persona: directly from its parent company.

Of the more than 30,000 unique television episodes available from the successor to CBS All Access at its early March launch, some 25,000, or close to 84%, were sourced from the ViacomCBS vaults.

And why not? With ownership of iconic pop culture brands like MTV, Nickelodeon and Comedy Central (not to mention CBS itself), ViacomCBS possesses an enviable content pedigree that gives the two-tiered streaming service immediate marquee value.

A deep dive into the Paramount+ offering quantifies how ViacomCBS has populated a deep streaming offering. A One Touch Intelligence VODTRAK® audit from March 2021 yielded this top-line breakdown of the content ViacomCBS's own brands have contributed (approximate number of titles in 000s):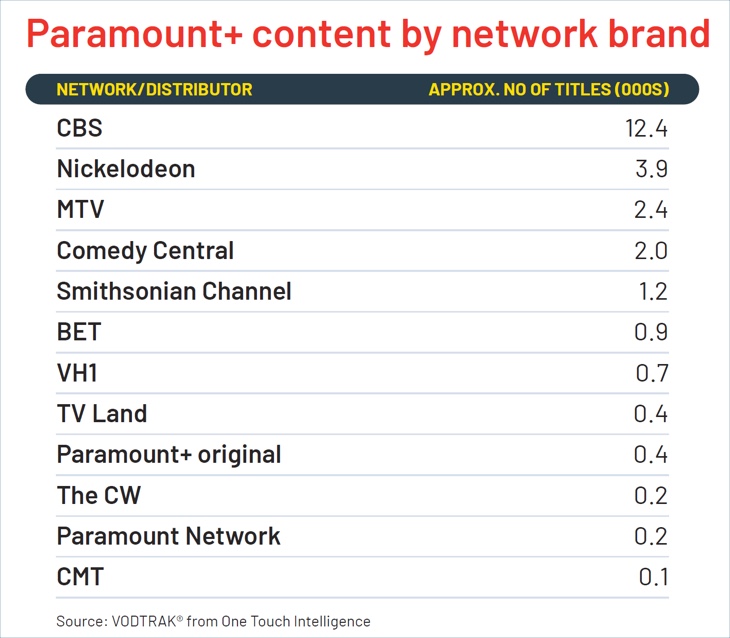 In addition to these house brands, Paramount+ has acquired rights to a smaller amount of third-party content, along with selected movie titles from outside the ViacomCBS/Paramount Pictures ecosystem. There's also a planned originals collective including network reboots such as "iCarly," derived from Nickelodeon, and "Criminal Minds" from CBS-TV, along with new premieres like the police drama "The Coyote," and continuation of some of the signature originals ("The Good Wife" and others) that helped to put CBS All Access on the map.

To be sure, the retransmission of live feeds from most CBS-affiliated stations gives the premium version of Paramount+ unique and exclusive appeal. But beyond the currency of live TV, having a rich array of evergreen content has become a "must-have" feature for any streaming service that aspires to a mainstay role. With expectations from ViacomCBS that Paramount+ will rack up close to 70 million subscribers by 2024, a foundational content library is essential for keeping subscribers engaged and interested.

On that front, Paramount+ stacks up competitively against prominent streaming peers. Our latest title-by-title audit shows Paramount+ nestled toward the upper end of prominent streaming services, trailing the recently launched discovery+ (roughly 55,000 unique/non-duplicated titles) but ahead of HBO Max (approximately 16,000), NBCU's Peacock (23,000) and Disney+ (11,000).

Tonnage doesn't tell the entire story, of course. A nominal breakthrough hit like Apple TV+'s much-praised "Ted Lasso" can create buzz even in an environment where the surrounding offering is thin (in the case of AppleTV+, less than 300 titles). But Apple, remember, is starting from scratch with an original programming mandate. On the contrary, ViacomCBS controls a vast intellectual property collective, and has made it clear it fully intends to exploit that advantage.

To be sure, it's possible that over time, more third-party titles may find a home within Paramount+ server array. ViacomCBS has also mentioned the idea of decorating the menu with more content from its Showtime premium service. But straight out of the gates, Paramount+ is living up to its pledge to deliver a "mountain of entertainment" to subscribers. For the moment, most of that "mountain" is made up of the company's own building blocks.

The STREAMTRAK® report tracking Paramount+ content can be accessed here from One Touch Intelligence.