Monday, September 13, 2010, 9:44 PM ET
|
YouTube's newly announced live streaming platform offers video providers an exciting new opportunity to try new programming, connect to their audiences and leverage YouTube's massive reach. YouTube has made it very easy to broadcast live from within a partner channel, and has also adopted a "walk before you run" approach by testing today and tomorrow with 4 partners before expanding any further. That's a good idea, because based on my experience today, streaming quality was still pretty spotty.
For example, I tuned into Howcast's "Magic Secrets Unlocked!" today with celebrity magician Matt Wayne. It was a very cool show where Wayne took questions from a Howcast host and also did some neat tricks with a handful of participants. From a programming standpoint, I think live shows are a winning proposition for Howcast (and the others in the test, Next New Networks, Young Hollywood and Rocketboom), helping expand beyond on-demand programming. In the Howcast show, audience questions were taken and Wayne was interactive and engaging - and he even showed a few secrets to his craft.
However, the video got hung up frequently, causing the experience to be frustrating. Once, this happened just as Wayne was doing the final piece in a multi-part trick, which killed the climactic moment. On a Young Hollywood show I watched today, with comedian Dane Cook, the video was grainy, though it played relatively smoothly. In both cases there were relatively few simultaneous viewers so scalability shouldn't have been an issue.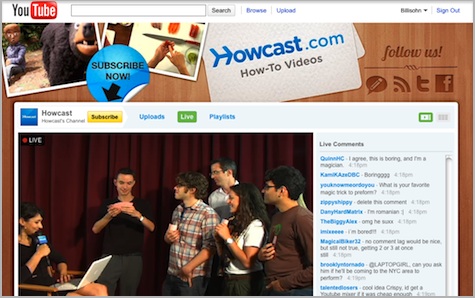 Nonetheless, I'm still optimistic and YouTube's decision to test first is smart in order to shake things out. As comScore reported a little over a week ago, live streaming has grown dramatically over the past year to 1.4 billion minutes viewed. Since the lion's share of online video consumption is still on demand, most video providers have not yet tapped the potential of live. As comScore notes, a number of players such as Justin.tv, UStream and Livestream have all made strong gains in the live market. But YouTube is the 800-pound gorilla and if it can offer a compelling platform that's also free to its partners it would turbo-charge the live market not mention change the competitive dynamics.
Live is still a nascent space and YouTube's entry means there's lots of potential ahead.
What do you think? Post a comment now (no sign-in required).