Tuesday, November 13, 2012, 10:44 AM ET
|
Visible Measures is unveiling its "Certified Publisher Program" (CPP) this morning, to help establish standardized MRC-accredited online video campaign metrics for publishers to report to advertisers and agencies. The program, which is free to publishers and advertisers, is meant to enhance consistency and transparency. This in turn reduces the friction of agencies needing to expend resources normalizing self-reported and highly variable publisher results.
Brian Shin, Visible Measures' founder and CEO told me yesterday that he sees CPP working alongside services from Nielsen, comScore and others. CPP's big differentiator is that it accounts for actual performance for paid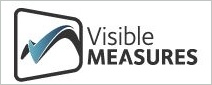 (e.g. in-stream ads), owned (e.g. original/branded entertainment) and earned (e.g. viral distribution) media. That means that as brands undertake ever-more complex campaigns, across ever-more viewing devices, CPP will aggregate performance data in a consistent manner, making evaluation far simpler than it is today.

Measurement is the hot button issue in the online video ecosystem; this past February, Unilever's Global Media Insights Director Patti Wakeling declared a "measurement crisis" exists in the research industry. Consumers are using video and other media in so many new ways that the relatively simple old days of TV advertising GRPs - imperfect as they were - are gone forever.

However, advertisers still need to promote their products and services, and therefore must figure out how to get their hands around the evolving video ecosystem. For its part, Nielsen, the gold standard of TV advertising, recently launched its Online Campaign Ratings and Cross-Platform Ratings services.

Some of the publishers and ad networks already on board with Visible Measures' CPP include Conde Nast, Hearst Digital, NBCU iVillage and Rodale, BrightRoll, YuMe and Grab Media. Brian said others are in the pipeline. Visible Measure obtained its MRC accreditation last February.

Brian added that CPP is the first of several forthcoming announcements Visible Measures plans to help bring the industry together around standardized measurement. More information about CPP, along with an application for publishers to get certified is here.