Wednesday, August 17, 2011, 3:36 PM ET
|
Encoding.com has released Vid.ly Pro today, which as company president Jeff Malkin explained to me, is targeted to the tens of thousands of video producers who need a solution that's more robust than YouTube or Vimeo but doesn't have all the bells and whistles (and cost) of a full-blown online video platforms.
As I explained in my original coverage of Vid.ly's beta launch in January, Vid.ly is a clever service that allows video producers to upload or point to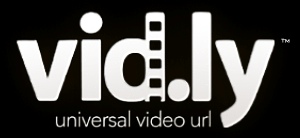 their source video file and then have Vid.ly return a single URL and embed code with 20+ output formats that will work across all devices and browsers. Vid.ly's goal is enticingly simple: to eliminate the operational complexity and cost of increasingly heterogeneous playback environments for video producers while letting users just click play and begin viewing.
Jeff reports that during the beta period over 15K Vid.ly URLs were created, generating 5 million views. In addition to a lot of individual users, a big surprise was that more serious video producers began using Vid.ly as part of their work flow, even though it wasn't yet fully commercialized, primarily because they want more control. One example Jeff cited was McCann Erickson which used Vid.ly as part of it work flow for a recent Harley-Davidson campaign. Typical Vid.ly customers include agencies, mobile app developers and e-learning platforms.
The primary new feature that Vid.ly Pro offers is an XML API so that Vid.ly can be formally incorporated into the customer's work flow. Other features include the ability to delete un-needed output profiles, (which lowers Vid.ly's cost further), a choice of CDNs, no limit on source file sizes (so HD files can be accepted) and adaptive bit rate streaming for iOS devices. Jeff said the next two big features to roll out will be analytics and a skinnable video player.

For those using existing video players, Vid.ly provides an FLV URL. In addition, Vid.ly offers the open source VideoJS HTML5 player from Zencoder and the OSMF Flash player for non-HTML5 compliant browsers. Mobile video is mostly played through the native video player found on the device. Pricing is based on number of Vid.ly URLs created, storage and delivery.
Vid.ly Pro is riding the waves of device proliferation, exploding online/mobile video production and persistent sensitivities around cost and complexity. No wonder Jeff says that customer sign-ups are running strong and are 5-10x the size per deal vs. as on Encoding.com.