Thursday, June 21, 2012, 9:36 AM ET
|
One of the things I was listening hard for throughout the sessions at this past Tuesday's VideoNuze Online Video Advertising Summit was whether speakers and attendees believe a convergence is coming between TV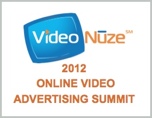 advertising and online video advertising models. To date the two have been siloed with different user experiences, back-end technologies, measurement systems (or lack thereof), ad loads, etc. In fact, the most frequent touch point between the two may well be on the creative side, where many of today's pre-roll ads remain re-purposed TV spots.

Yet with premium video proliferating online and connected devices like the iPad, Xbox and Smart TVs driving more consumption of entertainment, the formerly bright line distinguishing a viewer's online video experience from their TV experience is becoming increasingly blurry. For viewers this causes confusion around what degree and type of advertising to expect when they watch. And for content providers it likely means monetization is not being fully optimized across platforms.
At the heart of the issue, I believe, is whether video advertising should continue to be impression-based, as it always has been with TV, or engagement-based, as online has become, primarily due to the rise of search as online's dominant category.
The debate was perfectly captured in our closing session which I moderated. On the engagement side, YouTube's Director of Industry Development, Suzie Reider articulated the idea that viewer choice and control is where the industry should be heading. YouTube has strongly backed its "TrueView" format which allows viewers to pro-actively skip past ads.

Admittedly YouTube is in its own category given its insane quantity of streams delivered, but Suzie noted company research demonstrates that when viewers have more control, they are more engaged and therefore have improved recall. And because with TrueView advertisers only pay for ads that were watched, it is - like search - a far more efficient, targeted advertising buy than traditional TV. It no doubt feels radical to advertisers to invite viewers to skip their ads, but YouTube's bottom line is it's actually in their best interests.

In a world where 50% of U.S. homes now have a DVR, and are actively skipping ads, TrueView is in effect, trying to co-opt this behavior and turn it to advertisers' advantage. However, change comes hard when billions of ad dollars are at stake, and as NBCU's EVP and head of digital ad sales Peter Naylor explained, NBCU has no intention of adopting any ad-skipping options in their online delivery any time soon.

Rather, Peter points out, impressions continue to be the way to go in online. Between the inertia in the ad buying community and the embedded forms of measurement, a break to skippable ads doesn't make sense. A key point of concern: if ads are skippable then the pressure ratchets up to make outstanding creative that viewers won't skip. That alone is a major obstacle given the costs involved for creative and agencies' reluctance to have their feet held so tight to the fire on performance.

Meanwhile, it's worth adding that Comcast, the largest multi-channel video provider and broadband ISP in the U.S. (and the majority owner of NBCU), is striving to unify on-demand experiences between TV and online video. In his featured fireside chat, Comcast's SVP of Digital and Emerging Platforms Matt Strauss explained how the company is implementing dynamic ad insertion in VOD through set-top boxes (at last!). As a result, Comcast is looking to enable advertisers and programmers with the same ad tools regardless of where the content is consumed. Just as it is striving to deliver a consistent content experience across platforms, Comcast would no doubt be pleased to see advertising delivered with some consistency as well.

I wish I could offer some clarity about what the future holds: will TV advertising become more like online or vice versa? Or will each continue to follow primarily separate paths, with viewers left to be confused about why, when they watch one type of content on a certain device the ad experience is completely different than when they watch another piece of content on another device.

Unfortunately I don't see any consensus on the horizon. A persistent theme at the Video Ad Summit was that the world is indeed changing, but nobody is ready to say what the ultimate outcomes will actually be.

(Note, all of the sessions at the Video Ad Summit were video-recorded; as they're edited, I'll be posting all of them.)