Friday, May 24, 2013, 10:02 AM ET
|
Tickets are still available for the June 4th VideoNuze 2013 Online Video Advertising Summit in NYC. 5-pack and 10-pack group discounts are also available for additional savings. And note that for startups/students, there's a special $195 ticket to make the event more affordable. Contact me for the discount code.

We have an awesome program featuring 44 speakers on over a dozen different sessions. We'll be covering the full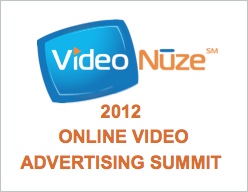 gamut of hottest topics in online video and advertising such as how to connect with today's always-on audience, the art and science of targeting, the NewFronts and Upfronts, connected TVs, programmatic video ad buying, how to monetize on-demand video, and much more.

Thanks to all 18 industry-leading companies that are supporting this year's Video Ad Summit: Premier Partners Adap.TV, Adobe, Akamai, TubeMogul, ValueClick and YuMe; Headline Partners Altitude Digital, AOL, BlackArrow, Collective, Innovid, LiveRail, VideoHub and Videology, plus Branding Partners EXPO, Extreme Reach, Mixpo and Real Media. All of them will have representatives at the event and it will be a great opportunity to engage with them.

Don't delay - register now!