Thursday, March 31, 2011, 8:01 AM ET
|
Video is not only hugely popular with consumers, it's also fast becoming critical for enterprises in both their internal and external communications. That's the message behind Thomson Reuters' innovative new "Multimedia Centre" online video platform (OVP), which was quietly launched a couple of weeks ago. Thomson Reuters global head of multimedia solutions Shaun McIver and Multimedia Centre product lead David Gascoine walked me through the company's strategy and demo'd the product for me last week.
The background here is that Thomson Reuters has become the world's largest webcast provider, powering over 20K for its clients per year. That experience has given it a unique perspective on enterprises' evolving communications needs. Multimedia Centre recognizes that the next level of communicating with audiences involves both video and improved tools for self-publishing. Just like with other OVPs, with Multimedia Centre users are able to easily upload their videos, sort them into playlists, add tags, create players, publish these to web sites complete with embed codes, share them to social media sites and more.
Multimedia Centre goes a few steps further, including features like multi-language support, so that videos can be customized for local areas (an important feature for multi-national companies). There's also the ability to synch up specific assets with the video, so for example if certain slides from a presentation are to be featured in the video, they can appear at precisely the right moment using time-codes. There are also options for interactivity like adding polls and overlays. The video can also be downloaded and there's a full analytics suite including the ability to monitor exactly which users have watched the video and how much of it they've seen and how often. Last but not least, Thomson has cleverly married Multimedia Centre to its Reuters Insider video portal, so that clients can easily publish their videos for broader audiences.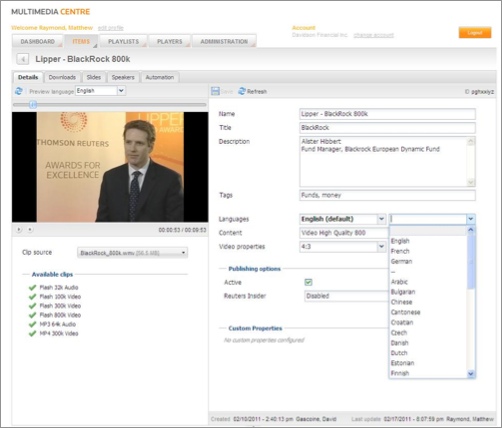 Shaun and David see multiple external uses of Multimedia Centre such as enhanced press rooms and investor relations efforts plus improved marketing. On the internal side, there are a range of applications like educating sales team, presenting HR information, senior executive briefings and more. With a base of over 5,000 customers globally, Thomson Reuters has a huge opportunity to drive video usage in enterprises. Multimedia Centre seems like a really smart move by the company which will continue to make video even more pervasive.
What do you think? Post a comment now (no sign-in required).