Thursday, September 4, 2014, 10:30 AM ET
|
Time Inc. is further bolstering its online video efforts, unveiling a new weekly program called "Sports Illustrated," available exclusively through its partner Net2TV's Portico TV service.

Like other recently-launched Time programs that are part of a broader deal with Portico TV (including "The Week in TIME," "PEOPLE This Week," "Cooking Light," "Southern Living," and "Inside Golf Magazine"), Sports Illustrated curates previously-released, shorter-form videos into a full-length program professionally hosted by one of the respective magazine's personalities.
For example, the first episode of Sports Illustrated, which runs 23 1/2 minutes and is hosted by SI's Maggie Gray, includes a well-produced profile LSU running back Leonard Fournette (originally published April 29th) and the off-season workout regimen of New Orleans Saints' QB Drew Brees (originally published July 30th), plus a preview of this year's Heisman Trophy and tagalong video of an SI swimsuit shoot in the Swiss Alps.

This is the special sauce Portico is offering print publishers - its ability to cleverly curate and package shorter-form videos into full 30, 60 and 90-minute programs that feel a lot like traditional TV. With the proliferation of connected-TV devices and tablets making long-form programming more viable, Portico TV provides these publishers with an online video on-ramp into the living room, where they can begin to have a more equal footing with their cable TV network competitors. Portico TV is currently available online and on 30 million+ smart TVs from Samsung, LG, Sharp and Philips, plus Roku-connected TVs and Toshiba tablets.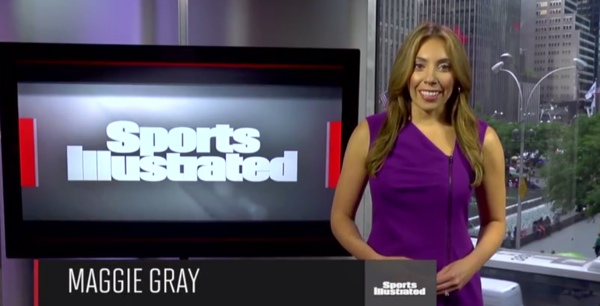 Like the other programs, Sports Illustrated is free and ad-supported. In the inaugural program I watched, there were 3 ad breaks, each with just one spot running 15-20 seconds. The ads are sold by Net2TV through Tremor and YuMe.

More broadly, Portico is helping magazines further monetize their online video initiatives, which are a critical expansion opportunity. As I wrote in one of my NewFronts reviews last Spring, print publications are leveraging their brands, storytelling expertise and well-respected talent into video. With insatiable advertiser demand for premium online video inventory, it's a smart bet by print publications.