Thursday, December 20, 2007, 9:04 AM ET
|
I continue to be impressed with Showtime's innovative use of broadband video to increase fan loyalty while adding new value to their programs and bolstering their brand image.
The latest example is a mini-site built for its "Dexter" season finale featuring an exclusive video of the 3 executive producers chatting about the finale and the program's story lines, with comments from various actors interspersed. The video premiered after last Sunday night's finale and is paired with a chat capability powered by Meebo, allowing rabid fans to interact with each other.
I caught up with Rob Hayes, SVP of Digital Media at Showtime and his colleagues Ken Todd and Michael Kuritzky to learn more about their motivation and how the mini-site has performed. It sounds like a resounding success. Video views are running 5 times greater than any one clip offered on the Showtime web site and the chat room has generated tens of thousands of users. There's also a sweepstakes on the site, which requires an email address to sign up. Rob reports that these sign-ups have increased Showtime's email list by 30% alone.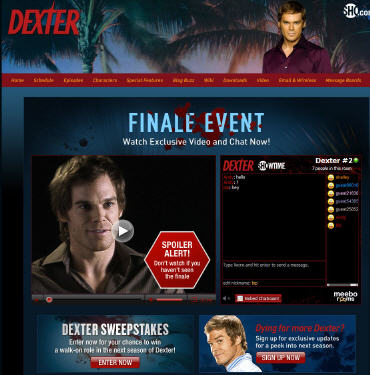 Showtime's motivation was to forge a deeper connection between fans and the program by providing ongoing interaction. So while there's no direct monetization of the mini-site, Rob said next time around, they could easily insert pre-rolls or overlays. And that means that Showtime, a stalwart premium programmer, would be leveraging broadband to create a new advertising revenue stream.
All of this demonstrates how this relatively modest video initiative is at the center of generating multiple rewards. It provides new value for fans. A basis around which to interact. Email addresses to use for ongoing communications. A new monetization path. Lessons learned for how to succeed in a multi-platform environment. An enhanced brand image. And the list goes on. Kudos to Showtime for continuing to be an innovator and showing others that broadband success comes in all shapes and sizes.