Tuesday, April 8, 2014, 11:24 AM ET
|
In a key test case of whether standalone SVOD services can succeed, even when well-branded and targeting appealing audiences, Sesame Workshop has unveiled its own service today, dubbed "Sesame GO." The ad-free service carries a $3.99/month or $29.99/year fee and includes the newest full-length episodes of Sesame Street, a catalog of Sesame Classics and two seasons of Pinky Dinky Doo.

Sesame GO uses Kaltura's MediaGO, a "Netflix-like" OTT solution for content and service providers to quickly launch SVOD services.

At first blush, Sesame GO's ad-free, child-centric UI, featuring popular content, would seem like a pretty strong bet. However, Sesame GO is entering an increasingly competitive landscape for online kids content created partly by Sesame's own licensing practices.
First and foremost, there's Netflix, which has invested heavily in building out a robust kids area. In fact, a quick search on Netflix reveals 84 episodes of Sesame Street, 12 episodes of Sesame Classics, the same 2 seasons of Pinky Dinky Doo programming as Sesame GO includes, and numerous Sesame specials. In addition to the Sesame content, there are many titles with popular characters such as Scooby-Doo, Mickey Mouse, My Little Pony, Curious George, etc. All of this is a pretty attractive value for $8/month.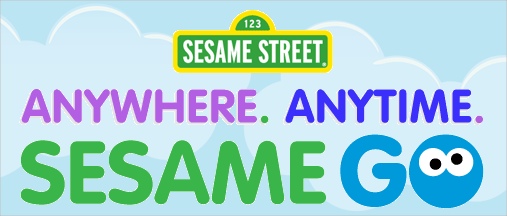 Beyond Netflix, DVRs, now in 50% of U.S. households, are a strong alternative for parents to build libraries of kids content they're already paying for each month. Admittedly, the same kid-centric UI as Sesame GO offers isn't available, but even the youngest kids have become pretty adept at finding their way. One bonus feature emerging in the DVR world (via TiVo, Comcast X1 and others soon) is the ability to download recorded content, so it can be played offline (think backseats on long car trips!).

Another alternative is Amazon, whose new Fire TV also features a very strong kids UI and, if you're a Prime member, includes a wide selection of kids programming. And then of course there's always iTunes downloads, DVDs, etc. as additional options, especially useful for families traveling internationally.

While anecdotes abound of kids playing videos on tablets and phones, the big screen TV is still crucial. This is where Netflix has really excelled (Amazon too, though less-so) by integrating with dozens of connected TV devices. But since Sesame GO is only a web service (at least for now), it severely limits easy access on the TV. Also, the lack of native apps means the extra complexity of kids having to use a browser on mobile devices to find their way to desired programming.

Another critical limitation of Sesame GO is that only one simultaneous stream is allowed - a much tighter policy than Netflix, HBO Go and others enforce. This limits the utility of Sesame GO for families with more than one young child.

Just a few years ago, Sesame GO, as currently configured and priced, would likely have been a very compelling value proposition. But the streaming landscape has changed quickly and dramatically. Netflix in particular has made low price, native mobile apps, integrations with connected TV devices, multiple simultaneous streams per account, very broad content selection and massive marketing all table stakes, which any new entrant like Sesame GO must contend with.

All of this will make Sesame GO an interesting initiative to follow - can it carve off its share of subscription spending in its target market? Or has the aggregated SVOD model, driven by Netflix, become too tough to effectively compete with?