Thursday, March 1, 2012, 11:32 AM ET
|
I've been fascinated for years with how newspapers have embraced online video to expand the scope of their businesses, redefine their identities and engage with their audiences. Yesterday I stumbled upon the latest example of how far from their print-only roots some newspapers are now moving: the NY Times has unveiled "Make Your Pitch," a contest for entrepreneurs to submit video "pitches" about their businesses to gain exposure on the paper's small-business Facebook page and to win a contributing role for its You're the Boss small business blog.
Even though there are no cash prizes (although, come on, a law firm, accounting firm or credit card company would have fit so well as a sponsor here!), I have a feeling that the Times will be deluged with submissions. Entrepreneurs crave attention, and the Times has a huge platform to provide visibility. More noteworthy, a few years ago the contest probably would have sought text (and maybe images) submissions. But with video, entries can be infinitely more creative.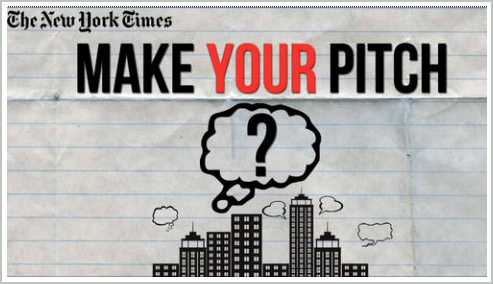 This also speaks to how ingrained video has become in our culture. I would argue that the long arm of YouTube's user-generated reach is a key catalyst. Even as hundreds of millions of people have become consumers of video on YouTube, many millions have also become producers of video on YouTube, and elsewhere. All of that is contributing to a high level of comfort with video whether in front of the camera or behind it. And it is increasing expectations that text and images are no longer sufficient. This is the new world we all live in, which I find pretty exciting.

Oh, and of course the Times supplied a video to help explain the video contest (however, it's not embeddable, boo!).