Friday, December 12, 2008, 8:56 AM ET
|
I got a tip yesterday about "Game Rewind," a feature that NFL.com has apparently launched in the last week or so. For a mere $20/season, you can now watch full, commercial-free replays of all the season's games. The video is delivered in terrific quality by Move Networks, and as seen below, also offers a side window that shows a synopsis of the game's scoring. I'm not a huge football fan, but since I missed the exciting end of last week's Patriots-Seahawks game, I simply dragged to the fourth quarter and sat back and enjoyed (btw, how nice is it to watch commercial-free?!).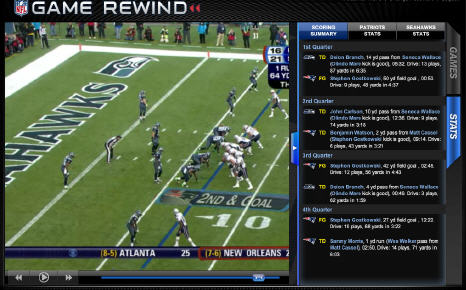 One suggestion for the NFL team: introduce EveryZing's MetaPlayer, Gotuit VideoMarkerPro or Digitalsmiths (or someone else's metadata-based search technology) so that fans can quickly retrieve only the highlights they care about (especially for the fantasy crowd). If I just want to see Matt Cassel's touchdown passes, it would sure be nice to enter that phrase and be shown those specific highlights only. Still, Game Rewind is a very cool new feature, of course only possible courtesy of broadband delivery.
What do you think? Post a comment now.