Wednesday, March 10, 2010, 9:11 AM ET
|
This year's "March Madness" men's college basketball tournament is just around the corner and in addition to the now-customary live streaming of the games (and this year an iPhone app for additional streaming), a new feature was introduced last week: "NCAA Vault" - a video index to every single moment in "Sweet 16" history for the last 10 years. NCAA Vault is powered by Thought Equity Motion, a technology provider that partners with media companies and rights-holders to digitize, deliver and monetize video assets. Last week I spoke with Thought Equity's CEO and founder Kevin Schaff to learn more about how the Vault works and the background of the deal with the NCAA.
Kevin explained that Thought Equity indexed all 150 of the Sweet 16 games' video with rich metadata for players, teams and highlights. This yielded a searchable database of 6,000 moments, which users of the Vault can tap into in a number of different ways. They can search by player, team, year, game or description of the play they're looking for. For more casual use, the Vault also presents lists clips of great shots, blocks, plays and finishes, plus most outstanding players and current stars. In addition to being a standalone site, the Vault is linked to from the March Madness main site.
When you search for a specific play, it will load and when done, the remainder of the game will continue playing until you want to move on. I can say from doing this several times that watching a play quickly and addictively morphs into watching several minutes of the game itself. Below the video window there's a text description of each play in the game. If you scroll the list and begin clicking on different plays what you'll immediately notice is how fast the new video loads and begins playing. Kevin explained that part of the reason is because the system is simply moving to a new cue point in the existing video file (in other words a new video file hasn't been created). This is a similar technique other indexes use; still, I don't think I've ever seen a new clip load as fast as these do. It's comparable to the experience of changing TV channels.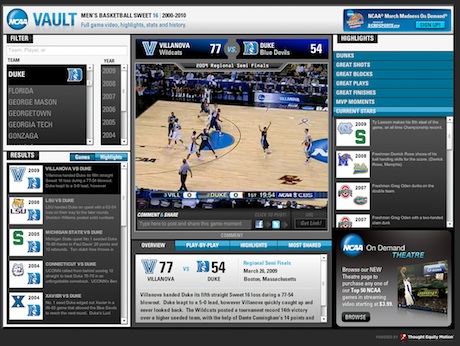 Thought Equity is very mindful of how, for some users, the Vault will be essentially a "stock video" database and so it has done several things to really enhance its value. Most important, it has created a Publishing Guide, which provides URLs to each of the moments so that writers and fans can search for incorporate links to just the plays they want. Conversely, if you're watching a video highlight and want to link to that moment, one click generates a URL for that clip. Thought Equity has even integrated the bit.ly URL shortener, so that you get a Twitter-friendly URL to use. Finally, Thought Equity has created an API so that 3rd parties who want to integrate the database, or pieces of it, with their own services, can do so easily.
Kevin explained that Thought Equity's model is to partner with media companies and rights-holders to license exclusive rights to their archived assets in order to create rich, searchable video databases. In the Vault's case, monetization is through advertising and CBS will sell the new high-value inventory. Thought Equity has worked with other media partners (e.g. Paramount, HBO, NY Times, BBC, etc.) with a monetization mix of advertising and licensing (i.e. the "stock" model). Over 10.5 million hours have been indexed to date with many more on-deck.
From a user's standpoint, the Vault is another exciting example of how the combination of online video and indexing technologies opens up access to memorable sports moments. Consumer usage creates the ad opportunity, but equally interesting are the myriad professional uses of the video. For bloggers and others running sports-oriented sites, the Vault opens a ton of new upside. Last week I wrote about how MovieClips.com is trying to create a similar Vault-like experience for movie clips; no doubt others will follow as the value of archived assets becomes increasingly apparent.
What do you think? Post a comment now (no sign-in required).