Thursday, January 23, 2014, 10:26 AM ET
|
A year ago, following Netflix's Q4 '12 earning report, I wrote "Netflix Q4 Earnings Improve, But It's Not Time to Pop the Champagne Just Yet." Well, now, following yesterday's strong Q4 '13 earnings report, I think it is that time as Netflix capped off a bona fide champagne year. Below are my key observations, broken into the same buckets as my analysis a year ago.
1. U.S. streaming subscriber growth and size of market
In the all-important U.S. market, Netflix added another 2.33 million subscribers, near the high end of its forecast for the quarter of 2.41 million and ahead of the 2.05 million it added in Q4 '12. As one measure of Netflix's momentum in 2013, it gained more U.S. subscribers in each of the 4 quarters of 2013 than it did in the respective quarters of 2012 (see chart below). For the full year, it added 6.28 million U.S. subscribers, ending at 33.42 million, ahead of 2012's 5.48 million additions. This was the best since the start of the streaming boom in 2010 (and before the Qwikster stumble). Netflix sees solid growth ahead too, forecasting 2.25 million subscribers adds in Q1 '14 vs. 2.03 million in Q1 '13.

With the growth, the U.S. streaming business is becoming quite profitable to Netflix, with $174 million of contribution profit in Q4 '13, 54% higher than Q4 '12's $113 million and more than triple the $52 million from Q4 '11. Contribution margin of 23.4% was the best ever, and the company sees 30% in reach sometime in 2015.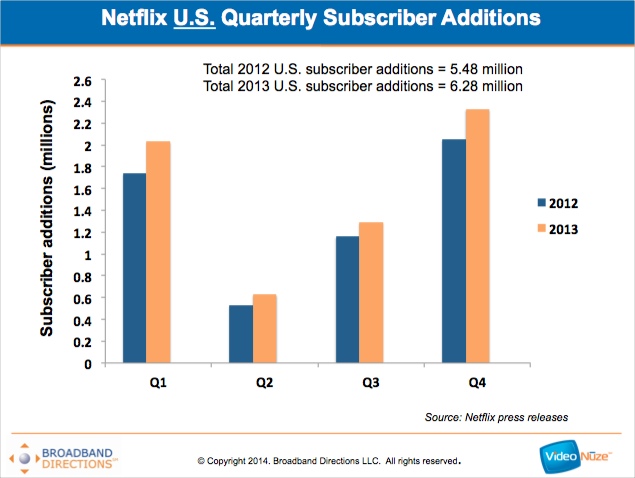 2. Content and Competition - the 2 big drivers
A year ago I wrote that content selection and what happens with the competition are the 2 biggest drivers affecting Netflix's business. So what happened in 2013? Clearly Netflix benefited from the strong debut of its 2 biggest original productions, "House of Cards" and "Orange is the New Black," both of which will run their 2nd seasons in 2014. And no doubt Netflix benefited from the mania around the series finale of "Breaking Bad" and the surge of interest in shows like "The Walking Dead."

But meanwhile content on key competitors like Amazon and Hulu Plus also got a lot better in 2013. In fact, noting the growth of other big online video companies in 2013, Netflix called out the market's tailwind as a big contributor to its growth. I think this is the main takeaway - Netflix's content got better, as did others' - but the market's overall rising tide lifted all ships. Going forward Netflix has a slew of promising originals coming with partners like Marvel, Dreamworks and Sony Pictures, but Amazon in particular is becoming much more aggressive in its content licensing (and its forthcoming connected TV device). So the picture could scramble as 2014 unfolds.

3. International losses
In Q4 '13 Netflix added 1.74 million international subscribers, down a bit from the 1.81 million it added in Q4 '12. In fact, as shown in the chart below, subtracting the gangbusters 3rd quarter of 2013, when Netflix added 1.44 million subscribers (which it attributed to one-time events like the Nordics expansion and a surge in low quality free trials in Latin America and which compared to 690K additions in Q3 '12), international subscriber additions for the 3 remaining quarters were 3.37 million, actually lower than the 3.58 million added in the comparable 3 quarters of 2012.

Unfortunately it's hard to figure out what's going on, as Netflix's management will not provide any detail on how individual countries are performing. On the flip side though, Netflix is forecasting a significant 60% increase in international subscriber additions, to 1.6 million in Q1 '14 vs. 1.02 million in Q1 '13, attributing it only to increased brand awareness (the company's indication of a "substantial European expansion" is not planed until "later this year" so presumably it won't affect Q1 results). So absent a Q1 launch in a big market like France or Germany (both well-rumored), it's hard to understand what will cause the spike.

Back on the good news front, international's contribution loss in Q4 '13 was cut to $57 million, down from $105 million a year earlier. Overall Netflix lost $274 million internationally in '13 vs. $389 million in 2012. Since the international expansion began in Q3 '10, Netflix has lost an eye-opening $778 million.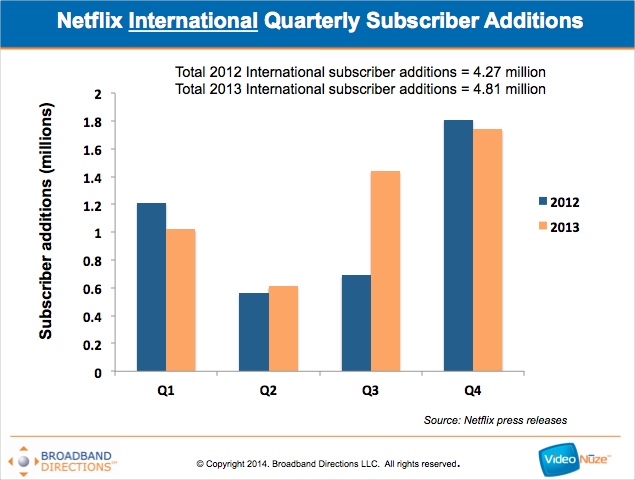 Even with the question marks around international, 2013 was a very good year for Netflix. It generated $4.4 billion in revenue, up 21% vs. 2012 and earned $112.4 million, up 6x from $17.1 million in 2012. Importantly, it showed there's still plenty of room to grow in the U.S. Even with the overturning of net neutrality, I agree with CEO Reed Hastings's view that broadband ISPs are unlikely to discriminate, particularly against a popular service like Netflix. The company seems to have rebounded well from the depths of 2011, with more positive news expected in 2014.