Tuesday, April 30, 2013, 10:28 AM ET
|
I'm pleased to share that Lori Conkling, NBCUniversal's EVP of Strategy and Business Development for Media Innovation and Cross Company Initiatives, will be a featured speaker at the June 4th Online Video Ad Summit in NYC. Lori joined NBCU recently to drive strategy and monetization of the company's cross-platform content. In her role, Lori is also a key executive in advanced advertising, content windowing and mobile. Lori previously ran distribution at A&E Networks; at NBCU she reports into Lauren Zalaznick.

At the Video Ad Summit, I'll be interviewing Lori about the choices and challenges involved in architecting a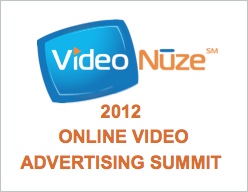 successful cross-media strategy. Today, media companies have unprecedented opportunities to engage with their audiences, but determining which ones have the best ROI and should be pursued is harder than ever. In the interview, expect insights about changing consumer behaviors, the shift to on-demand viewing, second-screen apps that work, effective monetization, TV Everywhere, mobile/connected devices and lots more.

Early bird discounted registration for the Video Ad Summit is available until May 17th. You can save $100 by registering early, and as an added bonus, all early bird registrants will be eligible to win a Samsung 40-inch Smart TV, presented by VideoHub. We'll do the drawing just before lunch. Startups and students are eligible for even deeper discounts, contact me to learn more.

I look forward to seeing you on June 4th!