Friday, November 16, 2007, 9:31 AM ET
|
Traditional relationships between content providers and powerful aggregators/distributors are being fundamentally challenged broadband video. That's because broadband is an
open
medium, allowing content providers and brands to enjoy unprecedented direct access to their target audiences. This diminishes a lot of the leverage that aggregators/distributors have traditionally had.
Yet, as I have said for a while, I believe that there's a place for direct-to-consumer and third party distribution/promotion to co-exist harmoniously. But finding good examples has been a challenge. That's why a
deal that KickApps announced today
with MySpace and VIBE for its "
Vibe Verses 3
" promotion resonated strongly for me.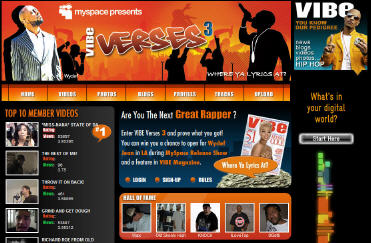 In a nutshell here's how the deal works: a major social networking site (MySpace) has partnered with a specialty publisher (VIBE) for a user generated video-dominated contest (VIBE Verses 3) to build a long term user-generated franchise (powered by KickApps), which will be mainly supported by ad sales.
To understand the deal better, I talked to Michael Chin, SVP of Marketing at KickApps earlier this week. For those not aware, VIBE is a major brand for the urban scene and VIBE Verses 3 is the third round of a contest that "challenges aspiring rap artists to upload videos of themselves performing original lyrics over pre-selected music tracks." Basically you can think of it as an "online-only, urban American Idol." All of the video uploads and social networking is powered by KickApps.
What's interesting to me is that MySpace is involved as the main promotional partner, seeking to build out its strength in this key category. As a large general purpose community site, they're partnering with VIBE, a well-known brand in the category, to bring more value to their members. As Josh Brooks at MySpace puts in the release, "VIBE is a pillar in hip hop and this partnership will help solidify
MySpace as the place
online for established and developing hip hop artists."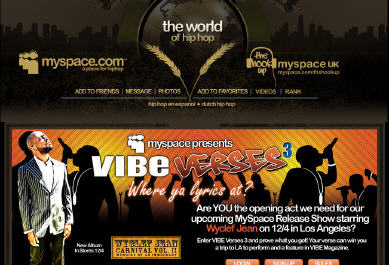 And according to Michael, this was done as a biz dev deal, not an ad sales deal. MySpace and VIBE believe that together they can build a franchise in hip hop that generates longer term value by creating a large, engaged audience of interest to other brands (e.g. Coke, Nike, etc.).
Of course none of this would be possible without broadband - it's the enabler for the user-generated videos that are at the heart of the contest.
In the open broadband video era where direct access to the consumer is ubiquitous, it's going to take more creativity to make deals work for everyone. I think this one is a good example of what can succeed. The deal serves as a template for how other specialty content providers and aggregators/distributors might work together, tapping user participation to build franchises that leverage each party's core skills and assets.