Summary
What: EveryZing is introducing a new metadata creation service called MediaCloud, which can scalably generate metadata for large publishers' video, audo, images and text.
Benefits: High-volume, high-quality metadata creation; avoidance of expensive enterprise software; XML file integration with existing work flow/publishing systems; cohesive multimedia user experiences; more targetable ad inventory
For whom: publishers, ad networks, monitoring services, PR professionals
The process of affordably generating large quantities of high-quality metadata (the information that describes content itself) makes a big leap forward today with EveryZing's announcement of its new "MediaCloud" service.
EveryZing is one of my favorite technology companies focused on video because its products leverage search behavior to drive increased and more specific video views. Regardless of the category (news, sports, entertainment, business) one of the key ways to incent more online video consumption is by returning more accurate results to users when they're seeking something specific. It's not just the improved user experience that counts; it's also that with rich metadata, accompanying ad avails are more targetable, therefore resulting in higher CPMs and/or pay-per-action ads.
Last Friday, EveryZing's CEO Tom Wilde walked me through MediaCloud and how it fits into the company's portfolio. With MediaCloud, which is offered on a SaaS (software-as-a-service) basis, customers' video is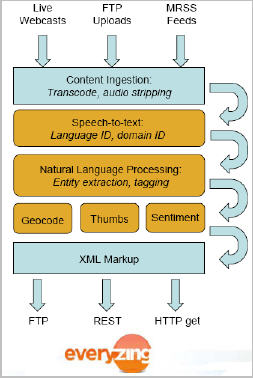 ingested either through live, FTP or MRSS feeds and is then processed through several steps of EveryZing's proprietary technology to generate the metadata. These steps (depicted at right) include conversion of speech-to-text, natural language processing to extract things like people, places and things, and finally generating thumbnails, geocodes and soon, sentiment. The result is an XML file that publishers and others then incorporate into their content work flow. The process occurs at a 1:1 level with the video itself and costs $.50 per minute of content. All of this happens in the cloud, which Tom believes is a first.
MediaCloud essentially takes what's behind EveryZing's ezSearch and ezSEO products and offers it to customers directly. According to Tom, customers' appreciation for the value of metadata has grown considerably in the last couple of years, therefore making a service like MediaCloud both timely and appealing. Today MediaCloud is geared for more sophisticated publishers who are ready to "graduate" to managing the metadata creation process themselves, but my sense is that eventually this will become a fairly standard part of the work flow for all reasonably-sized video publishers.
There are many exciting uses of MediaCloud's metadata, but two resonate most strongly for me. First is how it enables more universal publishing and multimedia search results for content providers at scale. For example, when you consider how much video is being created by so many different providers (e.g. broadcasters, cable networks, newspapers, magazines, online publishers, brands, etc.), you begin to realize how critical it is that they be able to cohesively deliver all types of assets to users. A scalable way to produce high-quality metadata which pulls related content together and allows each user to consume in the format they prefer is becoming essential.
Second is how contextual ad targeting is enabled at a whole new level. VideoNuze readers know that one of my fixations has been untargeted and/or redundant video ads. Everyone agrees there's much improvement to be made to the video ad value chain. Allowing publishers to expose their videos' metadata to ad networks in particular would provide significantly improved targeting, resulting in better CPMs and making pay-per-action models much more viable.
Net, net, MediaCloud is another important advancement in helping publishers mesh video into their users' behavioral patterns, helping monetize it at a potentially far higher level. No doubt we'll see more SaaS-type video metadata services in the future, but for now MediaCloud is a leader.
What do you think? Post a comment.