Magnify is a platform that enables enthusiasts to assemble relevant video from sharing sites (YouTube, Metacafe, Dailymotion, others) into channels. One of the things I originally liked about the Magnify
approach is that it is a powerful avenue for would-be curators to simplify the morass of video now available at disparate locations into one easy-to-access area for others with similar interests. The concept has clearly proven popular: since I wrote the original post in October '07 the number of Magnify channels has roughly doubled from 17,500 to 33,000+ and page views have spiked to 18 million this month.
The social features Magnify is introducing in its 3.0 version are aimed at creating deeper community interaction within the channels and are a natural evolution for the company. Quite frankly, they're something I would have expected earlier (chalk it up to finite resources?). The social features allow members to create and view profiles, "friend" each other and to track and subscribe to other members' activities. There's also integration with Twitter, Mogulus and Flickr.
Reactions to Magnify's move have been mixed and raise interesting questions about the interplay of social media and broadband video. For example, if I understand TechCrunch writer Erick Schonfeld's perspective correctly, he just doesn't buy into the idea that video is a solid foundation for community building and that the existing social networks can and do incorporate video just fine, thereby obviating the need for community within Magnify's channel context. While he rightly identifies a potential logistical issue of Magnify not offering cross-channel profiles, and simmering social networking saturation, overall I think he's underestimating the potential of video as a catalyst for social interaction.
Using well-organized and curated video as a foundation for community development actually makes a ton of sense. In our media-saturated society, video is a common and defining thread for starting and sustaining our interactions. As one example, Steve pointed me to the "Native American Tube" channel at Magnify. Have a look, there are 388 members and counting, and see how active the back-and-forth commenting is? People have strong and passionate affiliations with particular videos, programs and even networks - and want to share their thoughts.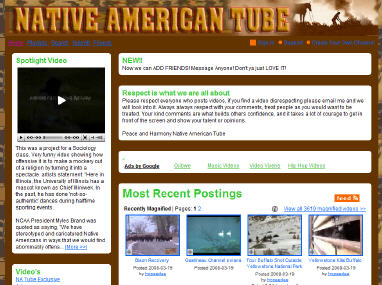 Meanwhile, for all the growth of Facebook, MySpace and Bebo, social media is far from a mature space. At last week's Media Summit, the integration of social media and video was among the hottest topics. The reality is that existing media brands (especially in the niches) and aspiring ones like those Magnify is powering have a strong ability and economic incentive to create community and interaction opportunities for their audiences. I expect we'll see no let up in their enthusiasm, and Magnify's social tools, as they further evolve, will become a key part of the company's success.
(Note: if you want to know more about this topic, yesterday there was a webinar sponsored by KickApps and Akamai. KickApps helps companies set up their own social networks and is getting significant traction in the media space.)