Thursday, June 23, 2011, 9:04 AM ET
|
LongTail Video, the company behind the free, hugely popular JW Player, has launched a public beta of LongTail.tv, which includes a hosted version of the JW Player, a gallery of embeddable videos from 5Min (and others soon) and turnkey advertising. Dave Otten, co-founder and CEO of Long Tail, told me that with LongTail.tv addresses small to mid-sized customers' demands for a solution that requires minimal technical expertise, offers easy access to premium content and provides incremental revenue. LongTail.tv has been in private beta with 300 publishers for over a month.
While LongTail.tv allows publishers to insert URLs to their own videos (an upload option and other features are coming soon with the full integration of LongTail's Bits on the Run OVP product) to play within the hosted JW player, the main value proposition is gaining access to the 5Min videos, which are sorted by category and new revenue. A publisher can simply grab the "Arts" or "Business" channels and a curated set of up-to-date videos from various 5Min content partners will be available on its site.
5Min benefits from additional distribution to LongTail's large audience for increased advertising. 5Min has traditionally packaged its own video player with its syndicated video; Dave believes this is the first time it has unbundled them.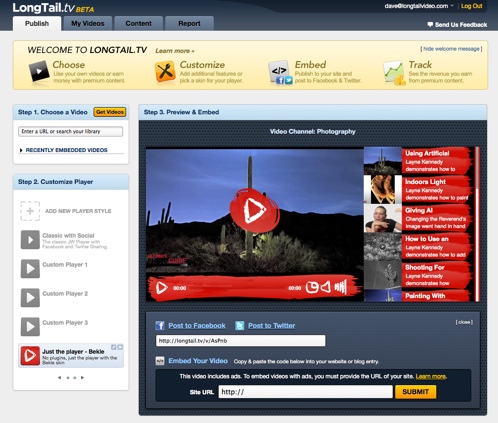 5Min is also responsible for ad sales and revenue sharing occurs between 5Min, the underlying content provider, LongTail, and the publisher. Clearly a four-way split requires both huge scale and also healthy effective CPMs to make it worthwhile for all parties. Dave sees the gap between the 15,000 downloads of JW Player that occur each day and the 1,500 actual activations as evidence that there's a strong opportunity here, and that targeted eCPMs in the $5-10 range will make it positive for everyone involved.
In fact, LongTail's vision is to make the entire small to mid-sized part of the video market completely ad-supported - giving away technology and content in order to aggregate audience. LongTail.tv is yet another play on the Syndicated Video Economy concept I've described, where video content is widely distributed to audiences wherever they might live.
If LongTail.tv succeeds it will put pressure on the low-end offerings from other OVPs' and also change the nature of competition from purely technology/pricing to a bundled content/revenue opportunity. LongTail.tv is further evidence of how dynamic the OVP market continues to be.