Last week brought two announcements suggesting that the health-related video vertical market is poised for growth: first, that HealthiNation will be distributing its videos on AT&T U-Verse and HealthGrades, and the second, that HealthCentral is partnering with 5Min to syndicate its videos across 5Min's distribution network.
I've been following HealthiNation for a while and last week CEO and co-founder Raj Amin told me that the AT&T deal brings to about 28 million the number of American homes where HealthiNation's content is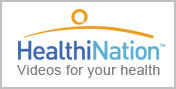 available on video-on-demand (VOD). Raj's enthusiasm for VOD distribution helps validate points I made last May in "Made-for-Broadband Video and VOD are Looking Like Peanut Butter and Chocolate," in which I suggested that rather than broadband video and VOD being competitive with each other, they can actually complement each other well.
In HealthiNation's case, Raj indicated that VOD distribution is particularly important for its sponsors, as they value views in the living room in addition to those on the computer, where most broadband video occurs today. The multiple ways that VOD is promoted by incumbent video providers given HealthiNation's content lots of visibility. The downside Raj noted is that VOD lacks the same interactivity/engagement opportunities as viewing online provides, and that inserting ads is not nearly as easy. The latter means that HealthiNation must manually attach ads to each of its VOD streams. This would be extremely laborious for content providers with hundreds or thousands of titles, but for HealthiNation, which offers dozens of VOD titles at a time, it is manageable. Raj emphasizes that VOD's ability to help surround the consumer with content and sponsor messages is a key differentiator for HealthiNation, and a key reason it has pushed hard into VOD.
HealthiNation's strategy is primarily to syndicate its content rather than be a destination site, and it has over 50 partners in its network now, with potential reach of about 40 million unique visitors/month. HealthiNation insists that its video be played in its player, and that it controls the ad inventory. This is primarily because of its commitments to its sponsors (mainly pharma) to deliver only highly targeted viewers, provide detailed performance metrics and use mostly display ads, not pre-rolls. All of these contribute to HealthiNation offering a differentiated value proposition relative to typical TV ads.
Separate, HealthiNation also announced a partnership last week with HealthGrades, which is the leading provider of ratings information on doctors, hospitals and nursing homes. Overall Raj said that at its peak, HealthiNation is now generating 3 million uniques/month. It has over 300 videos that are 2-3 minutes long (or longer for VOD) and growing. The company has raised $12.5 million in total, and Raj says it will be profitable in 2010.
Meanwhile last week also brought news that HealthCentral, a large online provider of health-related content and operator of a health-related online ad network, is partnering with 5Min, a video syndicator which I wrote

about here. Under the deal HealthCentral's videos will be added to 5Min's existing health library, for syndication to over 350 different sites. HealthCentral will take on exclusive ad sales responsibilities for pharma and OTC clients for 5Min's video focused on health, specific conditions, parenting, pregnancy, fitness and nutrition.
The HealthCentral deal is similar to the recent deal 5Min did with Scripps Networks in the food and home & garden categories. In both, 5Min landed a large anchor content partner, to which it then gave exclusive ad sales responsibilities for part of the category. In this way 5Min gains both valuable content and also category-specific advertising expertise. I continue to like how 5Min is building out its model methodically across important content categories.
Even as Washington slogs through health care reform legislation, the health-related online video space is rapidly evolving. More than ever, individuals recognize the need to educate themselves. Video provides a breakthrough way to simply and completely explain complex ideas. As a result I see lots of growth ahead in this vertical.
What do you think? Post a comment now.