Wednesday, June 9, 2010, 9:24 AM ET
|
With Glee's finale behind it, Fox is launching a new "Superfan" player today, aiming to keep up fans' interest during summer re-reruns. Superfan marks yet another evolution in the online video player experience, cleverly merging social media with the viewing experience.
The first thing you notice about Superfan is the radically different look vs. the prior, standard player for Glee and other Fox programs.
Superfan: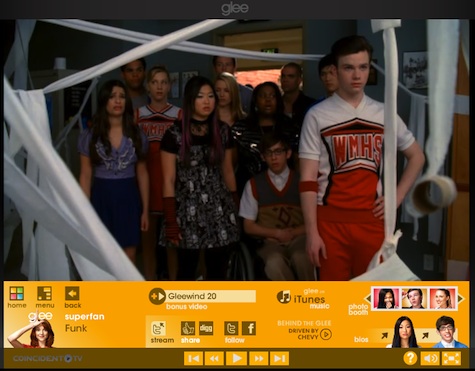 Old player: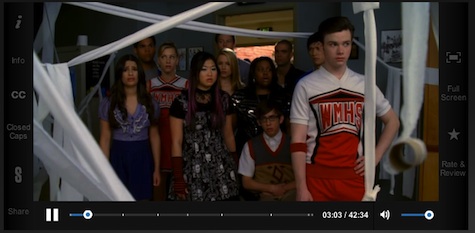 Bill Bradford, Fox's SVP of Content Strategy at Fox explained to me that with Superfan, Fox is trying to make it easier to drill down into additional non-linear content while watching the full episodes. Superfan prominently promotes links to Twitter, Digg, Facebook and other social media. When you click to open one of these, the video window minimizes to the lower right-hand corner (1 click brings it back to center screen) so you can easily multi-task; it's a pretty cool experience. There are also links to behind the scenes footage, iTunes to buy the show's music, actor bios and a "photo booth" feature.
One basic thing that's missing for now is a conventional slider bar that displays progress and allows specific scene selection. Bill said they're going to explore that in future releases. Bill also explained that context sensitive links can dynamically appear when a relevant scene triggers them, which is a pretty exciting feature, especially for e-commerce apps, though I didn't see these enabled yet.
For Glee, a show that skews to a younger, more engaged audience, Superfan makes a lot of sense. I expect we'll see more efforts like Superfan as more programs try to bring the online "water cooler" interactions of social media closer to the programs themselves. Superfan is powered by Coincident TV, a relatively new software provider focused on immersive "hypervideo" experiences blending online video and social media. Thinking more broadly, I also see Superfan as a precursor to the types of on-screen, interactive experiences that are going to be common with Google TV and other convergence devices.
What do you think? Post a comment now (no sign-in required).