Tuesday, July 15, 2014, 8:58 AM ET
|
Get beyond the standard headlines by attending the 2014 Reel Video Summit, which will be held July 24-25 at the Hotel Nikko in San Francisco.

The ReelSummit brings together hundreds of executives from brands, agencies, content providers and technology companies. For example, this year's keynote speakers include:
Jim Louderback, General Manager of Discovery Digital Networks;
Jeroen "JW" Wijering, creator of the incredibly successful JW Media Players;
Jonathan Perelman, GM of Video & VP Agency Strategy at BuzzFeed;
Jon Klaff, Head of Media Solutions, Brand Activation Team at Google/YouTube.

This year's Reel Video Summit schedule has been expanded to a two-day summit featuring insights from the foremost influencers in video marketing, video advertising, and video analytics/results. Attendees can expect candid discussion from leading experts about how they're succeeding and the key challenges that remain.
The summit includes workshops like "Engineering High-Performing & Measurable YouTube Campaigns," which examines why so many organizations screw up on YouTube and explains what it takes to elevate your brand, channel, and content from mediocrity to mastery. There's a B2C session entitled, "YouTube Strategies for Brands," which features speakers from Pepsico, Discovery, and VICE. There's also a B2B session entitled, "Is Your Company's Culture Killing your Video Marketing Potential," which features speakers from Grainger and Cisco.

There's also something new on the agenda called "Grill the Gurus," which features a different format. "Grill the Gurus" enables attendees to the 2014 Reel Video Summit to learn, network, and share information with their peers and industry professionals. You will have a wide range of industry topics and tables to choose from and can sit down in a low-key, small group setting and enjoy relaxed conversation while engaging in thought-provoking discussions on any of the relevant and valuable topics.

Plus, there are optional pre-Summit training workshops on "YouTube SEO & Audience Development for Marketers", "Become an Expert in YouTube TrueView Advertising", and "Branded Video Content Development – from Ideation to Creation."

According to the 2014 Reel Video Summit website, the event is "where marketers, brands, retailers & storytellers gather to get serious about the business of video." And the ReelSummit takes its slogan seriously. That's why VideoNuze is a Media Partner. And that's also why we are offering you a 35% discount if you use this link to register for this must-attend event.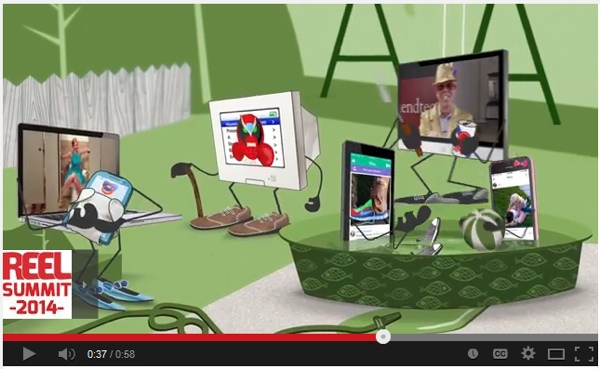 Bonfire Labs, a Creative Content Agency and one of this year's ReelSummit sponsors, created the event promo video below entitled, "The History of Video Marketing Part 1: Revolution." The sequel, which will be shared with attendees at the opening of the summit and will set the tone for the two day event, is currently under development with Bonfire entitled, "The History of Video Marketing, Part 2: Evolution."

If your business success depends on online video advertising in one way or another, use the VideoNuze 35% discount to attend this event. It's one of the other ways you can get beyond the standard headlines.