(note: I've been under the weather this week, which explains yesterday's absence of VideoNuze. I'm getting back on my feet and hope to be resuming regular publication)
Late last week Scripps Networks, parent of cable networks Food Network, HGTV, FLN and others, launched Food2, a web site targeting the 21-34 demo. Scripps has long been a leader among cable networks in capitalizing on online/broadband's potential, and this newest entry is yet another example of how important broadband is to cable networks' future growth. I spoke with Bob Madden, GM of Food's online properties to learn more.
First and foremost, Food2 is distinguished by its focus on the 21-34 demo. One of the interesting things about Food Network on air has been its appeal to younger audiences (this will likely resonate with those of you who have teenagers). But based on research it conducted Food executives realized that - no surprise - younger audiences want to experience food-related content in different ways: with shorter form non-linear content, more emphasis on experimental tastes and increased access to social/content sharing tools.
So Food2 was conceived as an effort to "super-serve" this audience. Scripps defines Food2 as "designed to be a social experience - just like food itself. It's the intersection of food, drink and pop culture." With a heavy emphasis on Facebook/Twitter integration, tons of short videos featuring hip young culinary talent and original webisodes plus challenges, recipes and tips, Food2 seeks to live up to its goal of experiencing food through the eyes of millennials.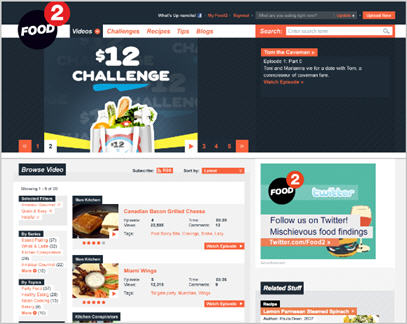 To me, Scripps' real insight from a business perspective is recognizing that broadband creates new "shelf space" for them to launch properties that target specific audiences and in turn specific advertisers seeking to reach those audiences. This matters a lot because due to existing contracts with cable/satellite/telco operators, cable networks have been constrained, at least relative to broadcast networks, in their ability to fully distribute online their popular full length programs (for example, there is no Food Network content on Hulu). While these contracts have led cable networks to achieve highly stable financial performance in this rocky economy, it has deprived them of fully serving their audiences.
Food2 demonstrates that there's online value to be built separate and aside from simply distributing full-length programs online. And because Food2 will be promoted on Food Network's air, and will have some of its advertising sold in packages with Food Network and other Scripps properties, it is off to a running start. Lastly, while Scripps doesn't want Food2 to be seen as a "farm team" for Food Network, there's no question that if talent gets traction on Food2, it has the potential to migrate to the 90M homes that Food Network is carried in, offering lots of interesting upside.
Food2 is a tangible example of a traditional media company recognizing that younger audiences want to consume media differently and that broadband is a new kind of medium that can serve them accordingly. With practically all cable networks savoring access to younger audiences, I expect Food2 will be watched by others and eventually spawn similarly targeted sites.
What do you think? Post a comment now.