Sometimes high-potential products can initially look pretty modest, especially when compared to higher-profile alternatives. Such is the case with a clever new product from ecommerce provider ATG called "eStara Video Connect" that could easily be overlooked in the sea of snazzy new video ad formats constantly being rolled out.
Two weeks ago when I first glanced at the pitch email I received from ATG's PR rep it looked like a ho-hummer. However, I gave it a slightly closer read and was intrigued enough to set up a call and demo. I'm glad I did. After talking to Shari Solis, VP of ATG's Media Business and giving Video Connect a spin, I think the product could add real value to broadband video advertising. Importantly, it could really improve the business cases being presented by broadband content providers to agencies and advertisers each day.
Here's how it works: the Video Connect player presents an icon or other message inviting the viewer take action. These actions can include clicking to call, IM, email, go to web site, etc. When the user clicks, the underlying video minimizes to a corner of the player and a simple pop-up appears. If you select "call us now", you then enter your phone #. Within seconds your phone rings, and within seconds after that another voice patches in from the advertiser.
In the demo a search was done in SuperPages.com for restaurants in Washington, DC which yielded a list of options. Many displayed a video camera, denoting video information was available. I selected the video for Ruths Chris Steak House and clicked to call. In a few moments I was on the line with the restaurant, asking for my reservation. The loop from search to more information to making a reservation was completed in minutes.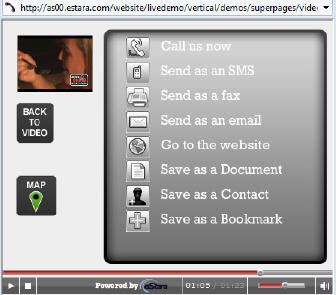 The applicability of Video Connect in the local ad space is obvious. Indeed, ATG is targeting local directories and online yellow pages as its initial market. These companies are in perpetual search of ways to add more value to their local clients. And of course, in this economy, local businesses gravitate to solutions that provide an improved ROI and clearly distinguish them from their competitors (more on this in my recent post "Citysearch Offering Local Merchants Video Enhancement").
Meanwhile, I'm also intrigued by the national opportunities. For example, one of the knocks on pre-roll ads is that they're just a branding opportunity, doing little more to directly drive actual sales than traditional TV ads. I can see how integrating Video Connect (which also has a full set of APIs, so that creative teams can incorporate it seamlessly) would allow pre-roll advertisers to derive a more measurable and higher ROI than they do currently, even when these ads also include a companion banner.
A great example would be creating a distinct offer in the pre-roll to "be one of the first 1,000 callers and receive...." that mimics traditional direct-response advertising. Wouldn't an auto company be interested in handing out a $500 coupon to the first 1,000 callers since they've self-identified themselves as higher-probability buyers? Or how about a consumer packaged goods company rolling out a "new and improved" version of a product. Wouldn't it be interested in having the first 5,000 loyal customers who called receive a complimentary box of the product, and then have them share the word with their friends? Given how inexpensive it is to outsource simple call center functions, the business case should be quite attractive.
I'm not suggesting that Video Connect is going to revolutionize video advertising, but it is a solid incremental feature that creates more value and will generate a higher ROI on advertisers' spending. These aren't trivial benefits, especially in a down economy where all ad spending is under close scrutiny.
What do you think? Post a comment now.