Undoubtedly we've all had the experience at one time or another of watching (or trying to watch) a particular online video, only to have some problem arise that interrupts our experience. To the average user, it's a mystery what might have happened. Is it a problem with my computer? With my personal Internet connection? With my Internet service provider? With the source of the content?
Regardless, it causes user frustration, which can lead to clicking away from the video, possibly never to return. More often than not, the content provider isn't even aware of these user problems. As online video becomes more central to content providers' strategies and P&Ls, inferior user experiences are a growing concern for content providers. And given the vagaries of the Internet and the exploding volume of video being consumed, it's an issue unlikely to go away anytime soon.
That's where Conviva comes in. Conviva gives content providers unprecedented insight into their users' viewing behaviors as well as tools to quickly identify and resolve problems. As Darren Feher, Conviva's new

CEO explained to me when I met up with him recently, and in a subsequent demo, the company's studies show that at least 25% of all streams suffer one problem or another. Affected users watch between 30-80% less video than those who don't have problems.
Here's how Conviva works: a small bit of its code is integrated by the content provider alongside the Flash or Silverlight player, whichever is used (in either case no user download involved). Conviva is also integrating with online video platforms (so far just thePlatform, but others to come), so the step is eliminated for the content provider. When deployed, Conviva's code monitors the user's video experience and sends back "heartbeat" reports every 10 seconds to the Conviva console. The console gives the content provider multiple views of their users' experiences, including things like a geographic distribution of current viewing, what player's being used, the average time it's taking to start streaming, the average duration of viewing, the amount of buffering, and so on. Conviva shares the science behind all of this if you're so inclined.
Conviva's secret sauce is mashing up all that in-bound data in real-time and detecting if/where problems exist, and when they do, what the source is. Problems could include buffering on the user's machine, issues with the currently-used CDN, congestion in the local ISP, etc. In addition to these telemetry/analytics services, the company also offers a service it calls "Conviva Distribution" which will seek to remedy problems as they arise based on a set of pre-configured policies. For example, if the user's machine is buffering, Conviva will adjust the stream being sent to a lower bit rate. Or if the CDN being used is the problem, Conviva will switch to another CDN (of the content provider's choosing) in mid-stream, unbeknownst to the user. The content provider gets real-time visibility into what troubleshooting is happening.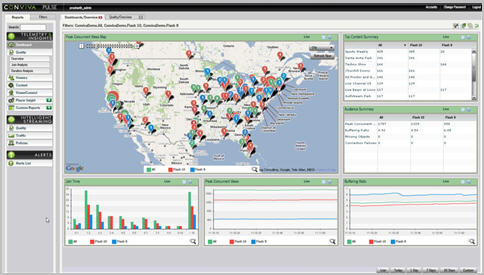 In addition to improving the user experience, Darren believes this degree of insight opens up new opportunities for content providers. For example, say there's a higher value set of streams, maybe for a subscription service or a live event. Those streams can be tagged and monitored separately, and have greater resources allocated to them to ensure up-time. Improved visibility into videos that are going viral means their placement on the site and their monetization can be enhanced. Another example is better-informed customer service agents responding to issues specific to a certain set of videos.
Some of what Conviva does is similar to analytics products like Omniture, performance measurement from companies like Keynote and Gomez and some of the reporting CDNs themselves provide to customers. But Conviva seems to bring together user viewing data in a unique and far deeper way than any of these. This week Conviva is helping NBC better understand its Olympics streaming using Silverlight. Conviva also counts Fox, ABC, NFL and others as customers. Conviva started life as Rinera Networks, pursing managed P2P distribution. It has raised $29 million to date from UV Partners, New Enterprise Associates and Foundation Capital.
What do you think? Post a comment now (no sign-in required).