A year ago, in "Comcast: A Company Transformed," I asserted that in the past 10 years Comcast has dramatically evolved from a traditional, plain vanilla cable TV operator to a digital TV, broadband Internet access and voice powerhouse. Comcast's Q3 '09 earnings, released last week, offered more proof that the company continues its transformation, capitalizing on consumers' shift to digital lifestyles.
As the chart below shows, Comcast's Q3 results were once again powered by higher digital TV penetration in its cable TV subscriber base, and additional broadband and voice subscribers.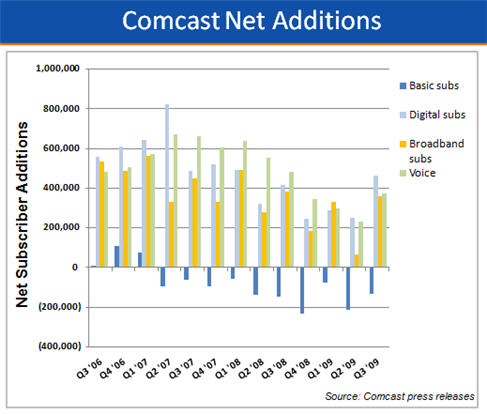 These gains offset the steady erosion in Comcast's total number of cable subs, which at the end of Q3 stood at approximately 23.8 million. Comcast has lost cable subs for 10 straight quarters (totaling 1.25 million) as competition from satellite and new telco video entrants takes its toll. Still, the company has been able to drive revenue per video subscriber steadily higher, to $116.91/month in Q3 '09, reflecting the value of product bundling and success in its business services area. As I said last year, Comcast has effectively moved "up-market," targeting consumers who are willing and able to afford a $100-$200 monthly bill to enjoy the modern digital lifestyle.
Even as the company continues to turn in solid financial performance, Comcast's slowing growth in the core areas of digital TV, broadband and voice are evident in the chart below, which converts the net additions to each service, plus the contraction in basic video subs, into trend lines. With the exception of a few sporadic blips up, over the past 3 years, all 3 areas have shown a steady deceleration in growth. For example, in the most recent 4 quarters (Q4 '08 - Q3 '09), Comcast added 3.4 million digital TV, broadband and voice subs, but this was down 38% vs. the 5.5 million digital TV, broadband and voice subs it added in the year earlier 4 quarters (Q4 '07 - Q3 '08). In the most recent 4 quarters, Comcast also lost 657,000 cable subs, vs. 436,000 in the earlier 4 quarter period, a 51% increase.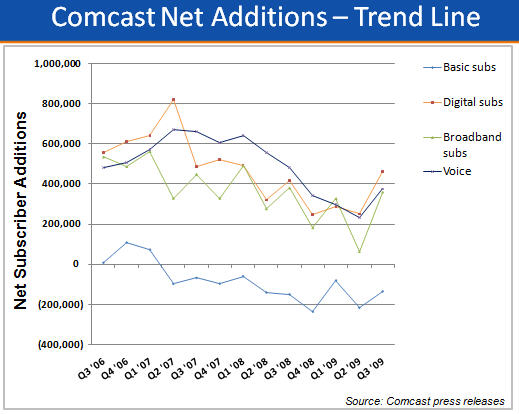 Meanwhile, a big bright spot over the last 3 years for Comcast has been the strong progress it has made in converting its subscriber base to digital TV. As the chart below shows, digital TV penetration now stands at nearly 76% of cable subs, up from about 69% at the end of Q3 '08, and about 61% at the end of Q3 '07. Between bundling, new digital channels, HD, VOD, an improved channel guide and DVR availability, Comcast has strengthened the value proposition for subscribers to convert to a digital set-top box, bringing the company higher revenues and a larger universe to deliver new services to, not to mention a stronger defense against possible cord-cutting.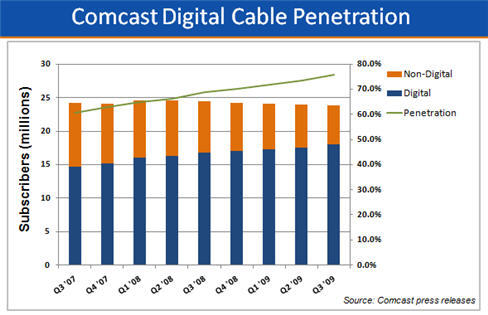 With the slowdown in net additions occurring, Comcast has clearly begun contemplating where new growth, as well as expense reduction, will come from. Given its negotiations for a controlling stake in NBCU, for now it looks like the company's main strategy is deepening its stake in the content business. Since Comcast hasn't even formally acknowledged the negotiations, much less revealed what the financial and strategic benefits any deal might offer, it's too early to weigh the deal's pros and cons.
Should the deal happen though, it will certainly absorb significant management resources. Given how important an effective rollout of TV Everywhere is to the company, anything that distracts from this task would be a setback. Further, as I recently speculated in "How TV Everywhere Could Turn Cable Operators and Telcos Into Over-the-Top's Biggest Players," Comcast must also keep an eye on competitive drivers that might require it to serve video outside of its traditional geographical footprint (note, Comcast executives say there are no such plans). Doing so would be a herculean management challenge. Last week's research revealing that potentially 54% of Netflix's 11.1 million subscribers now use the service to stream video each month was a reminder that powerful national competitors are steadily building their IP-based delivery businesses through a variety of connected CE devices. These kinds of "over-the-top" services are inevitably competitive to Comcast and other incumbent video providers.
As Comcast has transformed itself into a digital powerhouse it has positioned itself extremely well for continued market leadership. How it chooses to allocate its vast resources, and then how well it executes on its choices will determine how much of its significant potential is realized.
What do you think? Post a comment now.