Thursday, January 21, 2016, 9:57 AM ET
|
Canvs, which interprets video viewers' social sentiments about their favorite TV programs and ads across 250 different TV networks, has raised a $5.6 million series A round, led by KEC Ventures, with participation from Rubicon Venture Capital, Gary Vaynerchuck and BRaVe Ventures, Social Starts and Milestone Venture Partners.

I spoke to Canvs CEO and co-founder Jared Feldman last week who explained the company's approach and why its syndicated research portal has been quickly adopted by almost 3 dozen TV networks, studios, ad and talent agencies to date including Sony Pictures, SMG, NBCU, Viacom and others.
Canvs's premise is that viewers' social sentiments about their favorite TV shows can be mined and interpreted into qualitative insights which complement the quantitative metric of ratings. Jared positions Canvs as a modern replacement for traditional methods of qualitative research - focus groups, opinion polls and surveys.

For now Canvs is solely analyzing tweets (via a deal with Nielsen to gain access to Twitter's stream) but will expand to other social media soon. Canvs has a team of linguists who study language form, meaning and context in the tweets about a program in order to detect the emotionality behind the words. Jared said over 4 million different emotions have been discovered to date, but to make them actionable, they're sorted in one of 56 categories (e.g. "excited," "love," "dislike," "happy," etc.).

The volume of these emotions can be graphed by time and other variables, so that Canvs clients can burrow in to even see the particular scene/moment that triggered the tweets/emotions. Jared said many TV networks were already doing some of this manually, with interns cobbling together data based on reviewing tweets. But that's a laborious, time-intensive process which only yielded spotty insights days later. With Canvs, TV networks get a morning-after analysis (soon real-time) view of how their programs resonated, which complements the overnight ratings.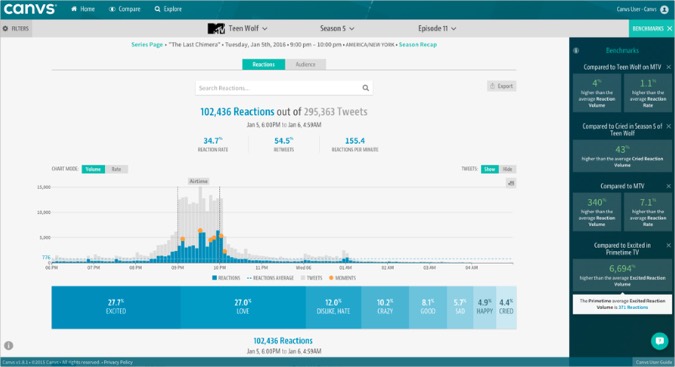 Jared notes that historically, social sentiment analysis has gained a mixed reputation, but he believes that the data set is now large enough and Canv's techniques are sophisticated enough for the results to be genuinely valuable for industry executives tasked with understanding the emotional resonance of TV programs and ads.

In fact, Jared cited numerous instances of how the Canvs data has been acted on to inform renewal decisions. In addition, Comedy Central has used it to determine which clips from Key and Peele to feature in Snapchat Discover. Sony Pictures has used it to choose specific segments to feature in promotions. And talent agencies have mined it to help negotiations for their acts. Pepsi even incorporated the Canvs data into their Super Bowl war room's analysis last year's half-time show.

Jared also said TV networks' client usage tends to be focused on their competitors' programs, with 2 competitor programs being analyzed for every one of their own.

No doubt the number of people tweeting about a program still represents a very small percentage of the total viewers. But according to Jared, TV networks consider them a good proxy for the larger audience. Further, they're acutely aware of social's influence, but to date, haven't had the tools to systematically understand the volume and breadth of social sentiment. This is the need that Canvs is filling.

Canvs will use the new funds for product development, particularly to help serve advertisers as well. And it will expand geographically into other English-speaking countries including the U.K. and Australia in 2016. It will also broaden social monitoring beyond the current 250 TV networks to OTT providers as well, which is currently in beta.

I've written many times about the way that Netflix is mining data about its subscribers' viewing behaviors to make better content investment decisions while TV networks and studios have been limited by traditional third-party ratings and qualitative research. It's still early days, but Canvs's social sentiment data looks like it will help level the playing field for TV networks in better understanding their viewers' preferences and behaviors as well. No doubt that's contributing to Canvs's early success.