I frequently hear the same segmentation framework used to describe today's broadband video providers. Between the small group of premium providers (e.g. broadcasters) and user-generated sites (e.g. YouTube), lie the so-called "mid-tail" (in "Long Tail" terminology) providers such as newspapers, magazines, online publishers, and indie producers. BobVila.com is a perfect example of a mid-tail provider. Dan Newberry, the company's VP Advertising and Marketing, who I recently spoke with, discussed these opportunities and challenges.
Some of you may know that Bob Vila hosted a hugely popular PBS program from 1979-1989 called "This Old House." He then set up his own production company and produced 2 syndicated shows, "Bob Vila's Home Again" and "Bob Vila." At the end of the latter's run, he decided to shift his focus exclusively to online, to his BobVila.com web site which had been growing since the Internet's earliest days.
As Dan explains, one of the motivations (in addition to Bob Vila's personal reasons) was the improving climate for online advertising in general and video advertising in particular. The economics of creating quality programming for TV vs. for online, plus the CPMs available online, made the case for shifting to online only. The site now generates 1.7 million unique visitors/mo and 600K-700K video streams/mo, with 1,700 video clips available.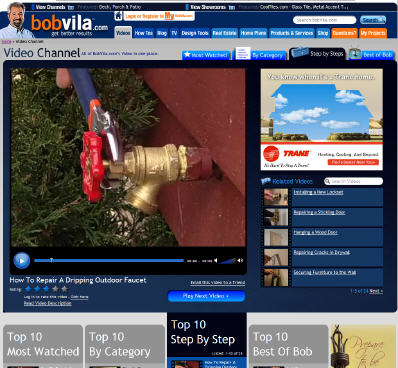 Responding to its audience's desires, BobVila.com now produces 5-7 minute step-by-step how-to videos for the site. It has created about 100 since June '07. While broadband enables this new model, Dan is clear about the challenges.
First and foremost is making the financial equation work. This involves producing videos on a disciplined budget and maximizing ROI. Their target cost to produce each video is $4-5K, which requires a different approach than with TV production. Given current viewership and CPMs, Dan calculates that break-even on an individual video is projected at 24 months.
To monetize their video, BobVila.com uses an internal sales team and is able to generate pre-and mid-roll CPMs in the $25-40 range. If there's unsold inventory then it uses a network to sell it, usually garnering $7-12 CPM. In addition, it also selectively uses overlay ads from Google AdSense. Setting the ad strategy to maximize revenue is key. As Dan noted, staffing and managing an internal sales team in this highly competitive environment is a challenge that startup sites need to fully recognize.
Increasing video views is another key challenge. Acknowledging the limitations of search and on-site generated traffic, BobVila.com is ramping up an aggressive syndication effort. While offering lots of upside, Dan explains that this syndication will present new operational and financial complexities such as ensuring BobVila.com gets paid, content is distributed where and when it should be, enforcing various rights issues, etc. Dan pointed out the importance of having a solid technology partner (BobVila.com used PermissionTV) which enables syndication, flexible players and content management.
When you put it all together, it's clear that while broadband offers mid-tail providers like BobVila.com huge new opportunities, it also creates new challenges and responsibilities that many content providers have not typically dealt with. Surmounting these will determine how well these mid-tail providers ultimately fare.