Wednesday, May 4, 2016, 12:21 PM ET
|
While the main goal of Hulu's NewFront this morning was of course to excite advertisers to open their checkbooks, the event also marked the unofficial kickoff of the company's ambitious repositioning from a catchup SVOD hub to an all-encompassing, next-generation, personalized TV service including live linear TV feeds.

At its NewFront, Hulu's CEO Mike Hopkins confirmed what had been strategically leaked to the WSJ in an article reported Sunday night - that the company intends to launch a skinny bundle of linear broadcast and cable TV networks to augment its on-demand programming, for monthly fee of approximately $40.
Hopkins provided no further details at the NewFront except to say "We're going to fuse the best of linear TV and on-demand, in a deeply personalized experience" (the NY Times carried an only slightly more illuminating interview with him today).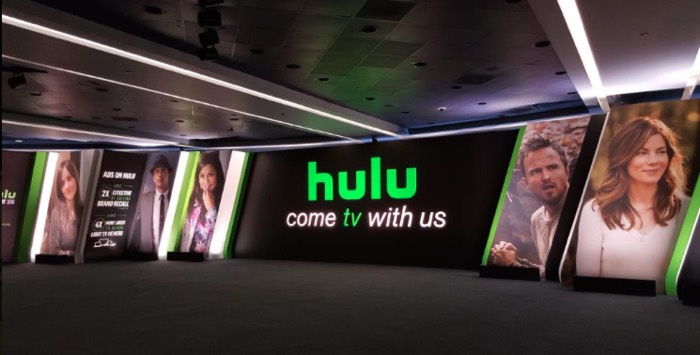 Despite the lack of details, the company's new tagline "Come TV with us" reinforces TV as the main value consumer value proposition with an aspirational tone of broader journey. Chief Marketing Officer Jenny Wall provided a sneak peak at clever new ads with the tagline and said Hulu has doubled its consumer marketing spending over the past two years.

Meanwhile SVP of Advertising Sales Peter Naylor observed that "TV is the new 'New Media' of today," unveiling a series of partnerships that enable dynamic interactive ads (via BrightLine with Havas as charter agency), improved measurement on connected TVs (via Nielsen's Digital Ad Ratings, which Naylor called a "BFD" - big fantastic deal) and increased advertising insights (via Millward Brown). Hulu said that 70% of its viewing now occurs in the living room.

With all the focus these days on data and improved targeting, Naylor noted that "data is fairly new to TV," but positioned Hulu as a leader. He said that unlike TV, Hulu can deliver 100% of the advertiser's target audience with 84% of its subscribers between 18-49. He also highlighted a Hulu "Advertiser Bill of Rights," including advertisers only being charged for 100% completion, strong viewability, the lightest ad loads, etc.

Hopkins early said that the "vast, vast majority" of Hulu's subscribers use its ad-supported plan rather than the ad-free plan which costs $4/month extra. Clearly Hulu wants to build on that momentum by making ads more targeted and more engaging as it ramps up for the new linear service's launch.

However, one thing that was missing from the Hulu NewFront was news of any significant new advertiser commitments. In fact, in a sign of NewFront competitiveness and displeasure with rising TV ad costs, YouTube tweaked Hulu by announcing this morning (via a report in the WSJ) that Magna Global had committed $250 million to Google Preferred on behalf of its advertisers for the period October 2016 to December 2017.

Of course, the Hulu NewFront wouldn't have been complete without appearances by a bevy of stars from its current originals ("Casual," "The Path," "Difficult People") and upcoming originals ("Chance," "Shut Eye") plus a guest plug by director Ron Howard and former Beatle Sir Paul McCartney for "The Beatles: Eight Days a Week," the first entry in the new Hulu Documentary Films initiative.

Hulu also announced it was renewing "The Mindy Project" for a fifth season and "The Path" for a second. It also unveiled a partnership with Live Nation to stream select concerts in virtual reality.

Hopkins also said Hulu is closing in on having 12 million subscribers, up 30% from last year. That base will no doubt be a key group targeted for the pending $40/month linear service, which will be the big story for Hulu for the next year. How will it compete (or not) with existing pay-TV operators? Can it get CBS and NBCU to sign on as well? Is there a market for a $40/month skinny bundle anchored by broadcast TV? These are among the most pressing questions that swirl around Hulu as it pursues its ambitious repositioning over the next year.