Tuesday, March 13, 2018, 11:03 AM ET
|
Israel-based AnyClip has launched its Content Platform, enabling its library of brand safe premium video to be contextually targeted across publishers' web sites. As Ari Applbaum, AnyClip's VP of Marketing explained to me in a briefing, this results in video embedded in a "walled garden of safe, secure web sites, which is compelling to advertisers."

AnyClip has traditionally pursued a syndicated video business model, inserting video clips into publishers' sites. What's being launched today is a new underlying technology platform called Luminous, which uses AI to more deeply analyze video and create metadata. Luminous can filter out objectionable content such as nudity, violence, profanity, guns, etc. Luminous can also screen for celebrity, brand identification and sentiment as well as IAB categories (see below).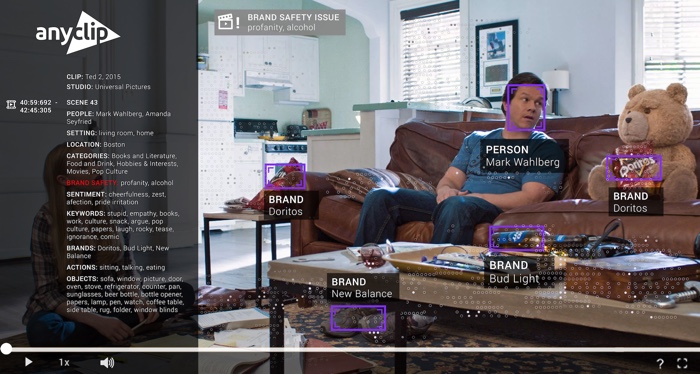 Publishers embed the Luminous Recommendation Engine ("LRE"), a customizable content and video ad unit. The LRE considers metadata from the publisher's web page and metadata from the video clips to decide which video clips from AnyClip's library are most appropriate. The publisher can place the unit anywhere on its pages in order to enhance the user's experience and drive new ad revenue.

Publishers are hungry for video's high CPMs, but many cannot afford the high costs of producing quality video; tapping into AnyClip's library solves this challenge. Publishers can alternatively use Luminous to exclusively showcase their own video, instead of video from third-parties.

The key benefit to advertisers is a network of brand safe video and web pages as verified by AnyClip. Brand safety continues to be a major advertiser concern. Many brands very publicly removed their ads from YouTube last year over brand safety concerns. Some, like P&G, have yet to return. With the political climate so highly charged, advertisers are scrutinizing where their ads appear more than ever.

AnyClip has over 600K clips in its library, which grows by several hundred per day. AnyClip works with thousands of publishers and a number of them have integrated LRE into their web sites already. One example is Time Out New York, which is using LRE to power its own video (see example here, and scroll to bottom of the page).

For many reasons, fully solving brand safety is extremely difficult. Bad actors have realized that there are multiple ways to game the big platforms, which are struggling to put in place technology and processes to weed out objectionable content. While brand safety issues persist, AnyClip's separate world of vetted, brand safe videos will be a highly valued model.